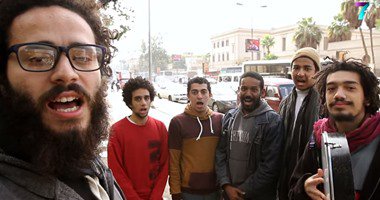 Members of the band Street Children had their detention renewed for 15 days by the North Cairo Court on Tuesday, pending investigations for charges of posting videos deemed insulting to the state and inciting protests.
Defence lawyer Mohmoud Osman told Daily News Egypt that the appeal judge of the East Cairo Court re-detained band members Mohamed Yehia, Mohamed Gabr, Mohamed Adel, and Mohamed Desouki for 15 days after the release of one of the members, Ezz El-Din Khaled, on bail estimated at EGP 10,000.
In May, Khaled was taken into custody from his house for posting "inappropriate" videos online. Two days later security forces arrested the remaining band members who faced the same charges as Khaled.
The band is accused of incitement against authorities, forming a group that stands against state principles, and attempting to topple the regime.
The troupe, which is composed of six young men who work in theatre and study art, gained mass popularity after a video of their sarcastic performance spread on social media.
Street Children is one of a number of similar cases that face criminal sentences for freely stating opinions about social and political issues.