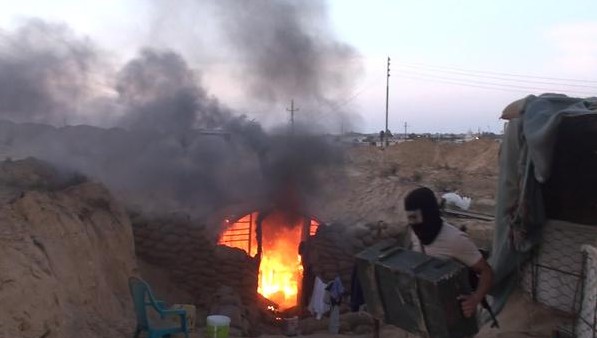 Two police conscripts were killed and another five injured in an improvised explosive device (IED) attack on Friday evening in Al-Qessima in North Sinai.
The attack targeted an armoured security vehicle that was involved in a sweeping operation to arrest wanted militants from the Islamic State (IS) affiliated group Sinai Province.
The injured conscripts were transferred immediately to the Suez military hospital and security forces continued combing the area to arrest perpetrators, state-run newspaper Al-Ahram reported.
"Two armoured security vehicles were targeted by IEDs while they were back from a Talaet El Badn checkpoint near Al-Qessima region. Militants opened fire on conscripts directly after the explosion took place," a journalist based in North Sinai told Daily News Egypt on Saturday.
On the contrary to Al-Ahram's narrative, the journalist asserted that the shooting resulted in killing three, not two, conscripts and injuring four others.
Daily News Egypt made several attempts to verify the authenticity of the circulated news and testimonies regarding the aforementioned IED attack from the Ministry of Interior's media office, but no answers were received.
Sinai Province regularly declares responsibility for carrying out military attacks against army and police forces based in North and central Sinai.
Recently, mutual attacks between army and police forces are remarkably on the rise in central Sinai. On Thursday, three alleged Islamic militants were killed in a shooting exchange with forces from the Third Field Army in Wadi Khazira in central Sinai, according to an official statement issued from the army's official spokesperson Thursday.
"In the continued effort of the Third Field Army to eliminate terrorist stationing points in central and North Sinai, forces from the Third Field Army succeeded in killing three Islamic militants after a shooting," the statement read.
Last week also in central Sinai, the deputy chief of central Sinai's Al-Qessima police station was killed in Al-Arish after being targeted by militants from Sinai Province.
The IS-affiliated group issued a statement in which it declared its responsibility and published photos of weapons, a car, and personal belongings seized after the attack on social media.
Military insurgency against army and police forces in North Sinai is still on the rise, despite intensive military operations being carried out by the state targeting members of the IS-affiliated group Sinai Province.
Sinai Province, formerly known as Ansar Beyt Al-Maqdis, represents a chronic headache to Egypt's current regime, as it continuously targets army and police officers whom they consider "apostates" that must be killed.