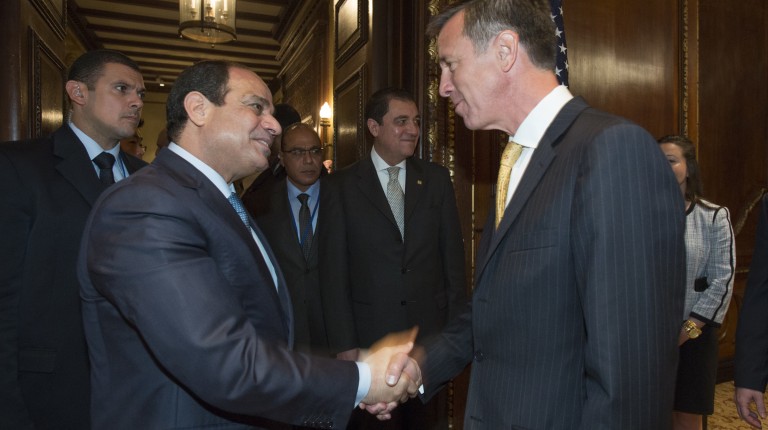 Prime Minister Sherif Ismail on Wednesday said the purpose of the value-added tax (VAT) is to obtain more revenues for the state, estimated at around EGP 32bn.
This figure will be directed towards social security and support of low-income citizens, the prime minister explained.
"Egypt's rich are able to provide their needs easily," he said. "They have to take on more."
The prime minister noted that the government is committed to a 14% VAT rate, refuting rumours on the parliament's desire to cut it down to 12%.
In a press conference following the weekly cabinet meeting, Ismail said that parliament will understand the government's position.
Asked about raising the price of metro tickets, he replied saying that the government is concerned about the deterioration of the services provided in the metro should ticket prices remain unchanged. "Raising the price was only a matter of time," he emphasised, adding that this would generate more revenues to help restructure and improve the quality of government services.
He pointed out that the size of implemented projects within the metro service totals EGP 100bn, with EGP 50bn expected to be spent in the second half of the 2016/2017 fiscal year.
In a different context, Ismail said that cutting down fuel subsidies is necessary. He added that the government will take into account the repercussions of this move on the market, noting that it will then interfere to stabilise the market and protect low-income citizens.
According to Ismail, the priority of the government is to curb price inflation to alleviate the suffering of Egyptians.
The prime minister also said that local elections will be held before the end of 2016, when parliament will prepare to approve the local administration draft law, in addition to the completion of discussions surrounding the legislation on establishing churches.
Regarding the International Monetary Fund (IMF) loan that is estimated at $12bn and is awaiting the fund's board of director's approval, Ismail said the loan is necessary to bridge the financing gap Egypt is expected to experience over the coming three years.
Ismail added that the IMF loan will assure international financial institutions regarding the economic reforms carried out by Egypt, and would speed up obtaining financial aid from them to support the economy.
The prime minister refuted rumours regarding the government's intention to lay off 2.5 million government employees, stressing that the new Civil Service Law is necessary for administrative reform and to control and regulate the hiring process.
Within the framework of the Alexandria governorate development plan to withstand the upcoming winter rain, the prime minister stressed that the government is determined to solve the problem. "The floods of last year will not happen again," he said.
As for raising the janitorial fee on electricity bill, Ismail said that the government does not intend to raise it.