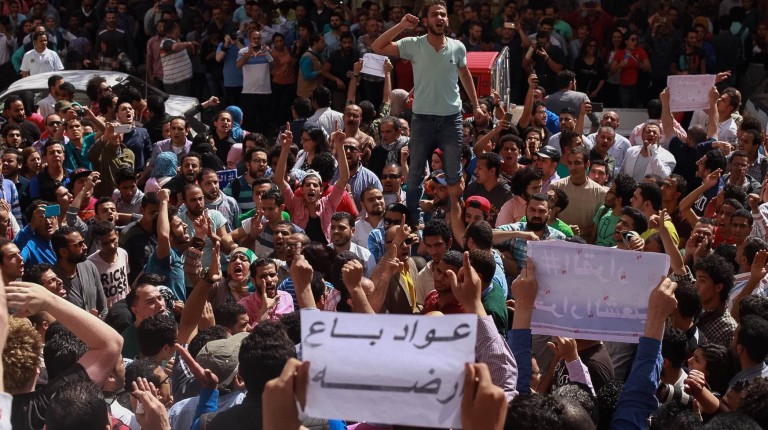 Social media activists started a blogging campaign on Sunday against the detention of their fellow activists Zizo Abdo, Hamdy Qeshta, and Haitham Mohamedein.
The decision to start this campaign comes in conjunction with the upcoming session that will see Abdo and Qeshta's detentions renewed on 5 September.
The activists were arrested following demonstrations on 25 April against the maritime demarcation deal that would have seen the sovereignty of two Red Sea islands transferred to Saudi Arabic, though this deal has now been annulled by court order.
The detainees were accused of calling for unlicensed protests, inciting people to violence, and hindering the work of national institutions.
On Saturday, director of the Egyptian Commission for Rights and Freedoms Ahmed Abdullah was granted release by the North Cairo Court; however, this was appealed by the East Cairo Prosecution. The appeal session will also be held this month.
Abdullah received the release order on EGP 10,000 bail along with another four defendants in the same case. They were all detained on accusations of inciting people to violence, attempting to overthrow the government, establishing an outlawed group, and hindering the work of state institutions.
Abdullah was arrested from his home at dawn on 25 April amid sweeping security raids against political and human rights activists, which was part of an attempt to foil any protests against the Red Sea islands deal.
Also on Saturday, Giza Criminal Court rejected the appeal for Mohamedein, a labour rights lawyer and Revolutionary Socialists member, and ordered the continuation of his detention.
The islands transfer to Saudi Arabia proved to be hugely controversial among intellectuals, public figures, social media users and activists, as well as both anti-government and pro-government citizens.
Several protests were organised across the nation by people from various social classes calling on the state to abolish the agreement, saying that "the regime sold our land" and "the islands are Egyptian".