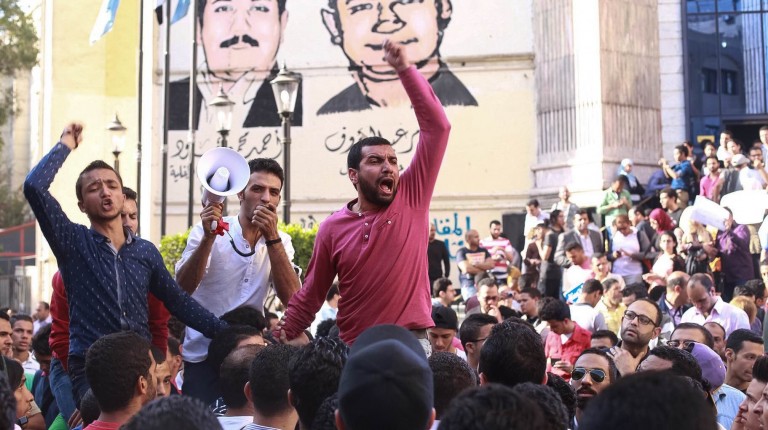 In a statement on Sunday, the Arabic Network for Human Rights Information (ANHRI) expressed its concern regarding the judiciary's decision to sentence five adolescents  to five years in prison. The adolescents are charged with unlicensed protesting, as they were arrested in April during a demonstration against the sovereignty transfer of Tiran and Sanafir islands from Egypt to Saudi Arabia.
ANHRI said that the Egyptian Constitution guarantees the freedom of peaceful expression, and that the April protests did not witness any violence or chaos that could lead to a punishment of five years.
Lawyer Mokhtar Mounir told Daily News Egypt: "the judge who sentenced the adolescents to five years in prison is the one who previously acquitted the adults in the same case from prison sentences." He added that the sentence against the adolescents is part of the state's hostility against youth.
The Qasr Al-Nil Misdemeanour Court previously acquitted 33 defendants who were charged with unlicensed protesting in April, after they were sentenced to two years in prison.
ANHRI called on the Egyptian authorities to drop the charges against the five adolescents and to release all detainees arrested for participating in the demonstrations. They highlighted two detainees, namely member of the Revolutionary Socialists Movement Haitham Mohamedien and member of the Constitution Party Hamdy Qeshta.
Last Thursday, the North Giza Child Court sentenced five adolescents to five years in prison and fined them a bail of EGP 100 on charges of unlicensed protest against the Red Sea islands deal.
The ruling sparked uproar among social media users and political activists, as they believe the verdict is too harsh on adolescents, especially since the judge refused to listen to the defence and did not allow the latter to view the case documents.
The five adolescents are also accused of belonging to an outlawed group and threatening Egypt's national security. They were arrested at a demonstration in Dokki on 25 April, which protested against the maritime demarcation deal between Egypt and Saudi Arabia.