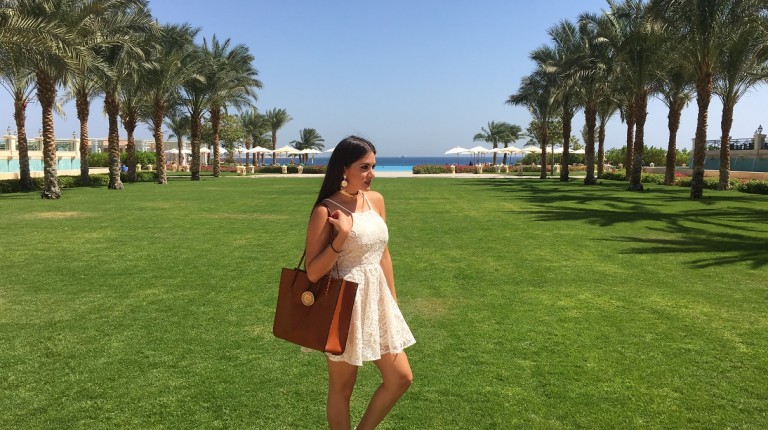 With a captivating smile, a sparkling tiara, and a strong cause, Yezenia Navarro is set to stand out wherever she goes. Mrs Mexico 2016 for Universal Pageants and Mrs UN ambassador of 2015 is a true advocate for women rights and universal harmony, as well as being living proof of the communicative power of fashion.
A few months ago, she was spotted out and about wearing Egyptian designers. It wasn't long before she decided to take a couple of steps closer to her favourite local creators.
Navarro, who was invited by International Business and Investment Services (IBIS) in collaboration with the Egyptian Tourism Authority, visited Egypt last week to support local tourism and meet her favourite base of fashion designers.
"Egypt is a country that I have always dreamed of discovering. I knew that the current lack of tourism is causing severe economic issues and I wanted to help in any way I can. I know it is a beautiful country and people need to come and see it," said Navarro.
During her trip, Miss Mexico dedicated her time to highlighting many of the country's large charity foundations, as well as its iconic monuments. Her schedule included visits to the 53753 Cancer Hospital, the Magdy Yacoub Foundation, and a few orphanages.
She also gave a great push to the tourism sector by visiting major attractions such as the ancient city of Luxor, Alexandria, Sahl Hasheesh, and the ancient Pyramids of Giza.
During her visit, Navarro showcased a strong relationship with some local designers as she was seen flaunting local garments and jewellery. The beauty queen is widely known for her admiration of international labels and ethnic designs.
"I believe in the international potential of the local fashion industry. Furthermore, I personally love some Egyptian brands and I believe that people around the world would love to know more about them. Therefore, I decided to wear Bahig Hussain, Sami Amin, and Diamond Zone during my stay," said Navarro.
According to her, fashion is a field in which Mexico and Egypt have a great deal in common. While Egyptians are beginning to lean towards local designers who depend on their heritage as a main source of inspiration, Mexicans are more into blending the past and the present.
"The two countries try to keep their traditional clothes alive while applying modern and fashionable interpretations. For example, Mexican huaraches are a big trend now in the biggest fashion capitals," said Navarro.
She also believes in using fashion as a universal method of communication. Consequently, she made sure to spend some time in Cairo with her favourite local designers; not only to express her support, but also to further show the world a different aspect of Egyptian tourism.
"I think each country has its own style and you can see how people around the world are trying to showcase a touch of their roots through their everyday style. I saw in Mexico how people are going back in time by wearing vintage clothes; this trend is appearing everywhere simultaneously. It just adds beauty and charm to the pieces while giving the world a glimpse of the country's traditional wear," said Navarro.
Aside from fashion, Mrs Mexico Universal could see the general similarities between Mexico and Egypt during her short stay. According to her, the two nations share the same pace of life, keenness on family traditions, and overall lifestyle.
Navarro is set to return to Egypt once again soon to further promote her organisation, Queens without Scars. The initiative aims to raise awareness regarding gender-based physical and psychological abuse, as well as to empower women around the world who suffer from violence.