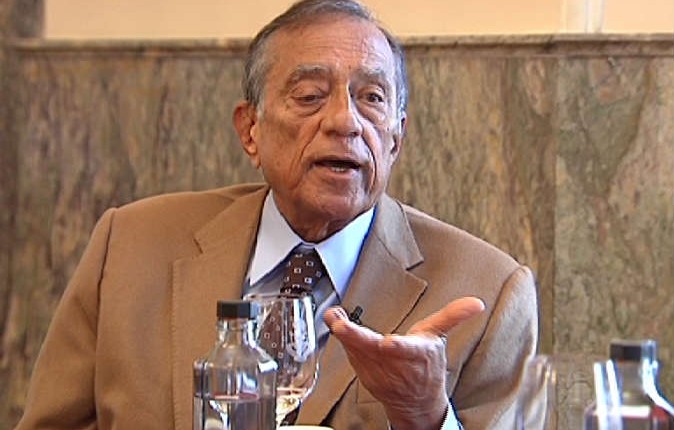 Renowned TV presenter Amr Adeeb started the first episode of his new programme on Saturday on the privately-owned channel ONTV. Controversy erupted shortly after, as Adeeb had chosen to interview fugitive business tycoon and ally of former president Hosni Mubarak Hussein Salem and his family.
The interview was held in Madrid, where Salem and his family have been residing since the 25 January Revolution, fearing legal action against them. Several verdicts were issued against Salem and his family in absentia. However, the family finalised a reconciliation agreement with the Illicit Gains Authority, whereby they agreed to move 75% of Salem's financial wealth to the state in exchange for reversing the travel ban against the family and waiving all corruption charges.
The most significant statement in the interview was when Salem's family said that the money they gave to the Egyptian state was a "donation", and not a reconciliation payment. Salem's son, Khaled, said that all the charges against the family were fabricated from people who unfairly accused them.
Khaled further added that the family has been suffering from an unstable financial situation for six years. They lived on borrowing money from their acquaintances. He also said that he couldn't find money for his son's funeral.
Salem's son went on to say that they should have only paid EGP 4.5bn to finalise the reconciliation. However, they had to pay EGP 5.4bn. Khaled said that the reconciliation agreement was signed at the beginning of August, but that they were still banned from travel.
According to Salem's daughter Magda, this was not an attempt at reconciliation, but rather a donation to Egypt because Salem was not accused in any cases and hasn't committed any crimes. Khaled said that the verdicts that were released against Salem in absentia are only used as a threat, but he has been objectively acquitted from all the charges against him.
Salem, whose health has notably deteriorated, said during the interview that once the travel ban is lifted, he will return back to Egypt. Nevertheless, he is not optimistic regarding this measure. He added that the Muslim Brotherhood is the main reason behind what he and his family are suffering from.
Adeeb said that during the Brotherhood era, he conducted an interview with Salem, during which the latter said that he is ready to pay whatever they ask for in exchange for settling this crisis.
Salem said that the 25 January Revolution was a plot tailored by Qatar and the Muslim Brotherhood, and that it was rectified by the 30 June uprising, after which Egypt's situation had improved. Salem also denied having any money or assets that were hidden from the Illicit Gains Authority, stating that "if they found something else, they can gladly take it".
The family stated that what they have left after the reconciliation amounts to EGP 147m, which they will use to pay the attorney fees. They also said that although they are living in their own houses in Spain, they cannot sell them because they are included in the frozen assets.
Regarding their properties in Egypt, the family said that they have one hotel in Sharm El-Sheikh, and share another one in Luxor. However, they denied receiving any money from these properties. At the beginning of the interview, they claimed that they had no place to live in Egypt. However, they backtracked and said that they have unfinished houses.
When asked about what they will do in case they return to Egypt, the family said that they will run their hotels. Despite claiming that they suffered under hard conditions in Spain, Salem concluded the interview by saying that he could have not reconciled and continued living comfortably in Spain, refuting what the family had claimed about living on borrowing and not having enough money.
According to an investigative report that was published by privately-owned Mada Masr, a document proved that what was offered by Salem for reconciliation represents less than a quarter of his real fortune.
Lawyer Hamido Gamil filed a lawsuit demanding the annulment of the reconciliation agreement, of which the first session is set to be held on 11 October.
ONTV channel was recently acquired by businessman Ahmed Abou Hashima, who has lately imposed his control over several media outlets.