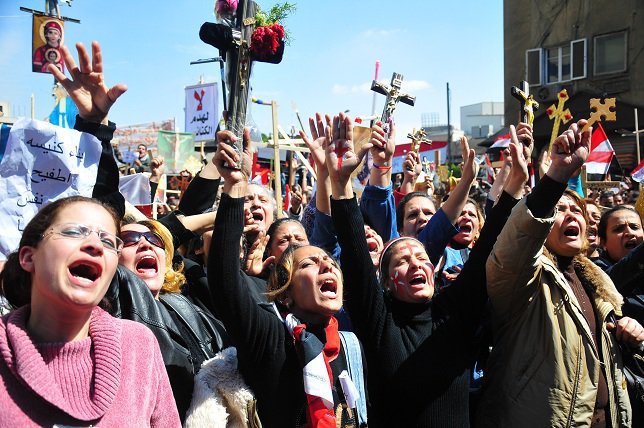 Young activists of the Maspero Youth Union were hoping to commemorate the victims by organising a rally in front of the Maspero building where the incidents happened back in 2011. However, such aspirations were crushed by the Ministry of Interior, which apparently threatened the activists and refused to grant them a protest permit, according to the controversial, but nonetheless implemented, Protest Law.
The Maspero Youth Union renewed their demand for the trial of army officials ahead of 9 October, which will mark the fifth anniversary of bloody demonstrations where dozens of Copts were killed.
"We have repeatedly voiced our rejection of this law which restricts the right to protest. Despite filing a request to the ministry this year, we were positive it would be rejected," the group said in a statement on Tuesday.
"Not only did the ministry state 'security reasons' as the pretext for banning our rally but we were denied a written copy of that rejection in an attempt to prevent us from taking it to court to appeal against the ministry's decision," the group further claimed.
On Saturday, the union addressed the Boulaq police station with a request for permission to hold a rally, in commemoration of the events, in front of the Maspero building at 6pm. The group said on its Facebook page that the invitation was open for anyone to participate.
In response to the ministry's action, the group said it would support their fellow communities in foreign countries in events they will host, adding that they are willing to cooperate with Coptic communities in the US and Canada in order to witness the success of their events.
The US-based NGO Coptic Solidarity announced it would host a press conference on Wednesday under the title of Coptic Martyrs Remembrance Day.
Coptic activists in the US had previously called for protests against a series of sectarian incidents that hit Upper Egypt's cities in the past months, amid efforts by Pope Tawadros II to contain their anger with the government.
Many Copts were not happy with the recently issued law on the construction of churches, yet the churches in Egypt sealed the deal with the state.
As for the day, 27 people were killed while thousands of demonstrators were shot at and run over by tanks during a peaceful protest requesting the right for Copts to worship in peace, under the rule of the Supreme Council for Armed Forces (SCAF). Calls for retribution remained unanswered throughout the different regimes which followed the revolution of 25 January 2011.