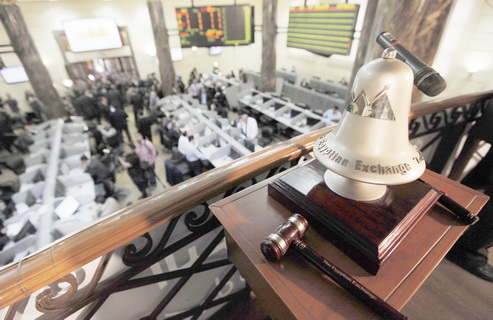 Analysts and technical reports predict that the Egyptian Exchange (EGX) will break through a resistance level of 8,500 points during this current trading week. If the EGX succeeds to remain stable at this level, it may perhaps move to 8,800-9,000 points.
The EGX30 added 1.63% of its credit during last week's trading and closed at 8,505 points.
The director of the technical analysis division of Osool Securities Brokerage, Ehab Saeed, said that EGX's performance was affected by last week's conflicting events concerning Egypt's economic relations with countries and foreign institutions, after news about the halt of Saudi oil aids.
However, the Central Bank of Egypt (CBE) announced the arrival of a Saudi deposit worth $2bn as an essential step to get the International Monetary Fund (IMF) loan, reflecting in a rise of the EGX by the end of last week's session.
Saeed explained that, this week, the EGX will focus on moving to a resistance level of 8,500 points, and  perhaps to 8,800- 9,000 points.
Regarding the performance of stock shares, Saeed said that the shares of Commercial International Bank (CIB) might test the resistance level of EGP 55 after it reached EGP 53.35.
The shares of Talaat Moustafa Group Holding Company (TMGH) exceeded the resistance level of EGP 5.90.
It is expected that Hermes' shares might move to a resistance level of EGP 14.25. It is also expected that the Hermes share will continue to rise to EGP 15.20.
According to a technical report issued by securities broker Mubasher, the next resistance level of the EGX will close at 8,850 points.
The report also pointed out that the CIB shares face a resistance level at EGP 56.30, while TMGH shares at EGP 5.85.