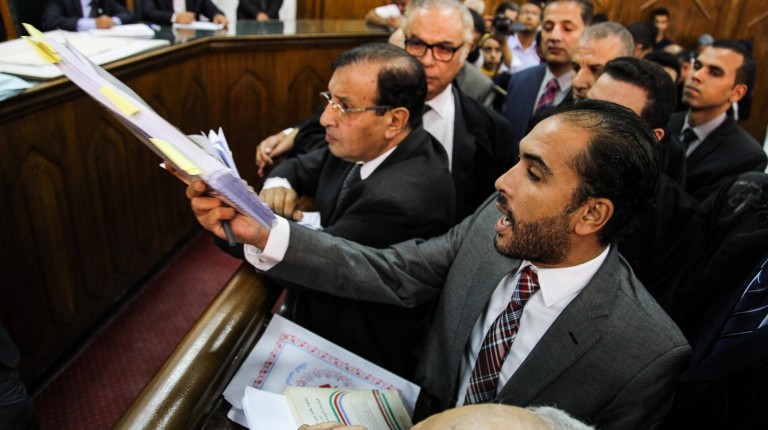 Defence lawyers in the 'Red Sea islands' case presented new documents on Saturday to the State Council Administrative Court. The court adjourned the trial until the end of October.
The documents verify an earlier verdict issued in late June that maintains Egyptian sovereignty over the two Red Sea islands Tiran and Sanafir.
In early April, the Egyptian cabinet announced the transfer of the two islands to Saudi Arabia's maritime sovereignty, in a deal signed between both countries during the visit of King Salman bin Abdulaziz Al-Saud to Cairo.
The decision sparked nationwide outrage, and protests that culminated with filing a lawsuit to the State Council to prove the Egyptian ownership of the islands and the unconstitutionality of the deal.
Malek Adly, one of the defence lawyers, presented more documentation in the form of old maps stating that the islands are Egyptian. "Those are documents the government does not want to present until now," he said.
Adly, who had been detained in solitary confinement for over 100 days on charges of propagating rumours about the Egyptian ownership of the islands, called on the judicial panel on Saturday to send someone to verify the validity of the maps from libraries in Germany and the United Kingdom. "If they have something against the maps we presented, then we can talk," he stated.
He noted that the defence team abided by not speaking about the case to any media outlets. However, Makram Mohamed Ahmed reportedly met with President Abdel Fattah Al-Sisi earlier and the former was told "crucial details" regarding the islands deal, Adly said.
The details include that Saudi Arabia insisted on finalising the agreement before King Salman arrived in Egypt, and that Israeli forces would take over security matters on the islands, Adly added.