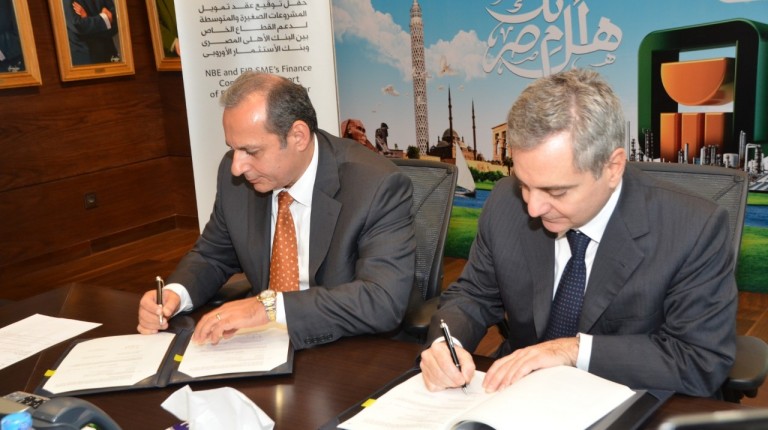 The National Bank of Egypt (NBE) has allocated €500m to finance private sector projects, especially small- and medium-sized enterprises (SMEs), according to chairperson of the bank Hisham Okasha.
Okasha signed a loan agreement with vice president of the European Investment Bank (EIB) Dario Scannapieco on Sunday through which the NBE obtained €500m.
This loan is part of the continued cooperation between the two banks, according to Okasha. He noted that the EIB's approval to provide the bank with this loan proves that the NBE has been able to utilise its past loans.
Okasha added that the NBE has previously obtained two loans: the first was worth €80m and a second for €120m in order to finance the investment costs of projects. Moreover, the bank was granted a €70m financing package to finance the third phase of projects against industrial pollution.
"This loan strengthens the confidence of global financing institutions in the NBE as well as the strong bonds between the bank and these institutions, especially the EIB," Okasha said.
He noted that within the loan, financing will be provided to projects with a labour force of 3,000 workers. He stressed that the bank will continue to support projects in the Egyptian private sector, especially SMEs.
"The bank aims to provide high-quality Egyptian products at suitable prices that will be able to compete against their imported counterparts. This will eventually limit the reliance on imports, increase the growth of this vital sector, and pave the way for its expansion which will provide jobs and add value to the national economy," Okasha saif.
The bank's total SMEs loan portfolio currently amounts to EGP 24.6bn. More than 47,000 projects have benefited from these loans, allowing the bank to acquire a market share of greater than 35%.
According to Scannapieco, the cooperation between the EIB and the NBE aims to support the private sector and SMEs with the goal of maximising their role in economic advancement and job provision, which is one of the main concerns of the EIB.
The most recent loan was signed in the presence of vice chairperson of the NBE Yehia Aboul Fotouh; member of the bank's board of directors Hussein Refaay; head of the bank's foreign affairs and international financial services department Ghada El-Baily; head of the lending operations sector in the EIB Marion Hoenicke; EIB near East regional representative Christophe Lucet; in addition to a number of members from both banks of the financing, legal, and international loans sectors for SMEs.