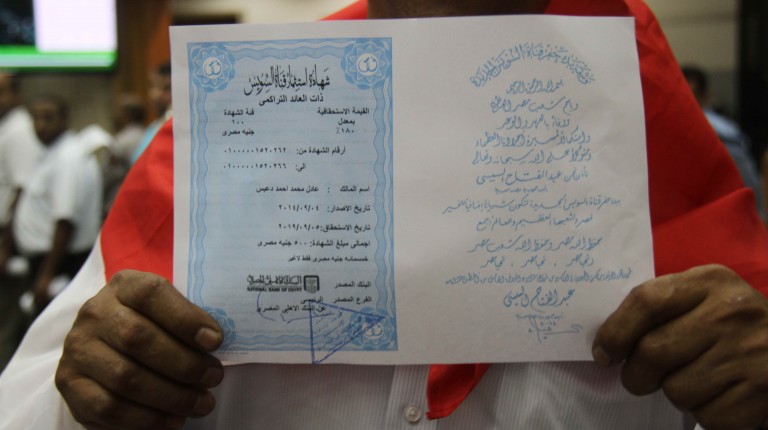 The interest rate on the New Suez Canal's investment certificates increased from 12% to 15.5% on Sunday.
Deputy Minister of Finance Mohamed Meit said that raising the interest rate of these certificates to 15.5% instead of 12% will cost EGP 2.2bn, which would be deducted from the public treasury.
He said that the cost of the new interest rate is expected to record EGP 3.2bn up from EGP 7bn, adding that excess Suez Canal profits may be used to finance the cost.
On Saturday, Finance Minister Amr El-Garhy said the ministry was considering increasing the interest rate on the New Suez Canal's investment certificates following recent government steps taken towards reforming the economy.
During an interview with a talk-show programme, the minister said the new rates are still being considered, as they must be fair for shareholders as banks provided certificates with a 20% rate.
Medhat Nafea, an economic expert, said that raising the interest rate of the New Suez Canal's investment certificates is necessary in order to make it profitable for shareholders.
He said that it's unreasonable for the government to prevent people from their right to get their money back, adding that it's important to calculate the interest again after the new, high interest rate banks applied in new certificates.
Nafea believes that increasing the rate would produce a heavy financial burden for the Suez Canal Authority, which has faced hard times due to a markedly lower income because of the lack of world trade.
It's time for the people to consider investing their money in small- and medium-sized projects, he noted, adding that now is the perfect time for investors to earn US dollars by increasing exports.
He sees the importance of creating new projects that would place all the money in banks into products; otherwise, these are just pieces of paper that would increase the inflation rate if they remain in banks with high interest rates.
Nafea noted that the current decisions are temporary to reduce the negative effects of floating the Egyptian pound, yet it's important for both citizens and the government to know that creating projects is the only way for Egypt to grow out of its current poor economic situation.
He believes that any project aimed at exporting would incur better profit than investment certificates, so long as the government focuses on creating a more attractive investment climate.