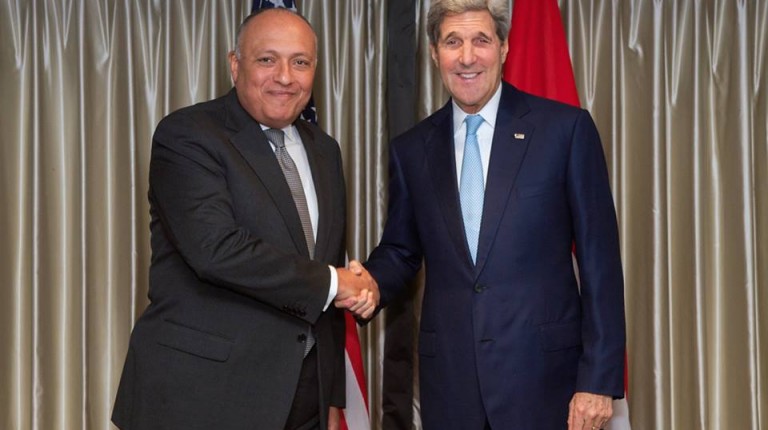 Egypt's Foreign Minister Sameh Shoukry flew on Tuesday to the United States (US) in a visit that will last for several days. During the visit, Shoukry is expected to meet with US secretary of state John Kerry, a number of congressmen, and several government officials to discuss ways of enhancing bilateral relations among other issues.
According to a statement issued by the Foreign Ministry, spokesperson Ahmed Abou Zeid said that the visit targets enhancing bilateral relations between Egypt and the US, and will also discuss Egypt's vision regarding many crises in the Middle East region and how to settle them.
The Egyptian foreign minister is also slated to discuss US aid to Egypt with Kerry. Abou Zeid added that Shoukry will discuss the economic reform programme and the measures Egypt has taken recently to assist its economy. Kerry previously praised Egypt when it liberalised the Egyptian pound, which was a condition set by the International Monetary Fund for a $12m, three-year loan. The loan was officially approved in mid-November.
Shoukry is expected to hold interviews with several American media outlets.
The Egyptian foreign minister will also discuss the current situation in Libya, Syria, Iraq, and Yemen. He will also touch upon the Palestinian issue and Egypt's efforts to combat terrorism.
Abou Zeid added that Shoukry and Kerry are expected to sign a memorandum of understanding regarding the illegal smuggling of Egyptian monuments to the US in order to limit their illegal trade.
Shoukry will also meet with a number of congressmen and senators from the foreign affairs and intelligence committees to discuss several issues in the Middle East and their developments.
Abou Zeid added that Shoukry will conclude his visit to the US with a meeting with the new UN secretary general António Guterres. They will discuss a number of regional and international issues, further disclosing Egypt's expectations of the new UN secretary general in light of its current non-permanent membership in the UN security council.
Shoukry's visit to the US will be the first visit by an Egyptian official following the election of president-elect Donald Trump earlier this month. Many analysts expect bilateral relations to flourish under Trump's administration.
US-Egyptian relations grew tense following the Egyptian Armed Forces' ouster of former president Mohamed Morsi in 2013, a move that the current US administration described as a "military coup".
While discussions on US aid to Egypt are on the table this trip, aid was halted in 2013 following Morsi's ouster. US president Barack Obama decided to restore aid in 2015 in order to combat the growing influence of Islamic State.
Al-Sisi was reportedly the first foreign dignitary to congratulate Trump on his win in the US presidential elections. Al-Sisi met with Trump during his participation in the UN general assembly in September and they both demonstrated mutual agreement on several topics, particularly combating terrorism.