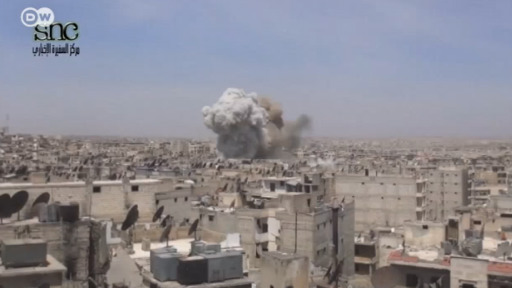 The Syrian army and its allies made key gains in the embattled city of Aleppo late on Tuesday. President Bashar al-Assad's forces pushed into rebel-held areas of the Old City, essentially driving opposition forces out of their last urban stronghold.
Britain-based Syrian Observatory for Human Rights (SOHR) said that the seven new districts seized by regime troops included the strategic Shaar area, "the most important neighborhood in the heart of east Aleppo." The result, the watchdog said, was that rebels were being forced to fight "a war of attrition," swearing to never surrender as victory became less and less likely.
Later on Wednesday, SOHR announced that government forces had indeed retaken all of the Old City, but the news has not yet been confirmed by military sources.
Russia, US trade accusations
Assad's renewed offensive has come under heavy international criticism for the humanitarian crisis it has exacerbated. Tens of thousands of city residents have become trapped between warring factions, with no way to receive much-needed food or medicine.
Yet the Western powers tasked with coming up with a plan for peace in Syria have been mired in disagreements that have stalled the peace process.
"We have been trying to find a way to get to the negotiating table … but Assad has never shown any willingness," US Secretary of State John Kerry said at a meeting of NATO foreign ministers in Brussels on Tuesday. The US has also accused Moscow and Bejing of stalling the end of the conflict by refusing to back a UN Security Council measure on Monday that would have called for a seven-day ceasefire.
His Russian counterpart Sergei Lavrov, however, said Assad had expressed willingness to make a deal to end the war, and that the resolution was an attempt by the US to buy time for the moderate rebels it supports.
"It looks like an attempt to buy time for the rebels to have a breather, take a pause and replenish their reserves," Lavrov said. He added that despite planned peace talks in Geneva this week, "a serious discussion with our American partners isn't working out."
The foreign minister has warned that the rebels will be "eradicated" if they refuse to withdraw all of their forces from eastern Aleppo.
Merkel: Western ambivalence 'a disgrace'
Speaking to a conference of her Christian Democratic Union (CDU) party on Tuesday, German Chancellor Angela Merkel called the situation in Aleppo "a disgrace," particularly the failure to create safe corridors for residents to receive humanitarian aid or to flee. She also slammed Russian for the many civilian victims of its airstrike campaign in support of Assad.
As government forces looked poised to make one of the most significant gains of the nearly 6-year war, tens of thousands of east Aleppo residents attempted to escape to other parts of the city.