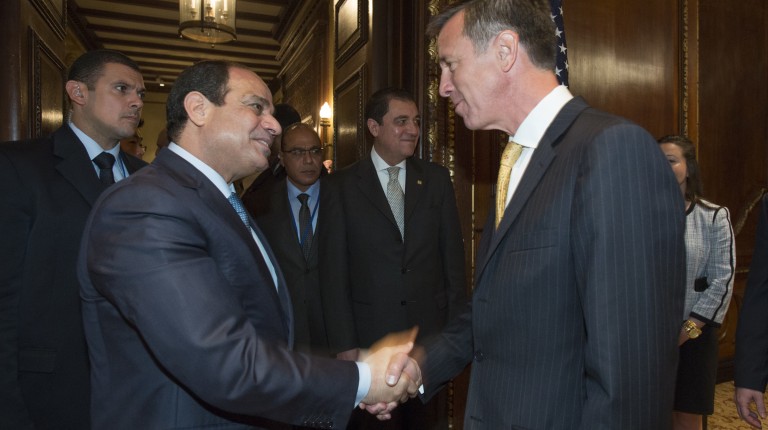 President Abdel Fattah Al-Sisi ended on Sunday night the first official visit paid to Uganda by the president in which he emphasised the importance of commencing the work of a bilateral committee established to carry out several development projects in the fields of energy, water, and agriculture.
The two heads of state addressed a number of important issues threatening the region, including political instability and terrorism.
"Terrorism is threatening the sovereignty of countries. We need to stop the plague of extremism and make sure it does not have a negative impact on our development," said Al-Sisi during his visit, according to the Ugandan news website The Independent.
Museveni praised Egypt's decision to send a protection force to help restore peace in South Sudan, according to The Independent. He also called on the Egyptian government's support for opposing possible UN sanctions on South Sudan, saying that move would create a power vacuum and negatively affect the region.
According to a statement issued by the presidency at the end of the visit, Al-Sisi told his Ugandan counterpart Yoweri Museveni that Egypt is keen to contribute in the development in Uganda by increasing Egyptian firms based there and providing technical support in different fields.
Museveni agreed to initiate the bilateral committee and spoke at length with Al-Sisi about ways in which both countries could increase commercial exchange and foster stronger economic ties between the two.
Also during the one-day visit, Al-Sisi met with senior Ugandan officials and discussed ways to enhance bilateral relations across all fields, as well as a number of African issues of mutual concern, the statement asserted
Inside the presidential palace located in Uganda's capital of Entebbe, Al-Sisi and Museveni discussed ways to properly exploit the Nile River water to achieve prosperity for all Nile Basin countries.
Moreover, both presidents welcomed the notion of a project which would connect the Mediterranean Sea with Lake Victoria. The project was suggested in 2015 and is strongly supported by Egypt.
"Talks will highlight ways to set up coordination and consultations between Egypt and Uganda on these issues at international forums," the statement read.
Museveni, 71, has ruled the east African country for three decades.
Al-Sisi arrived in Uganda for an official one-day visit on Sunday. The visit comes after he received an official invitation from Museveni, according to an earlier statement issued by the presidency.