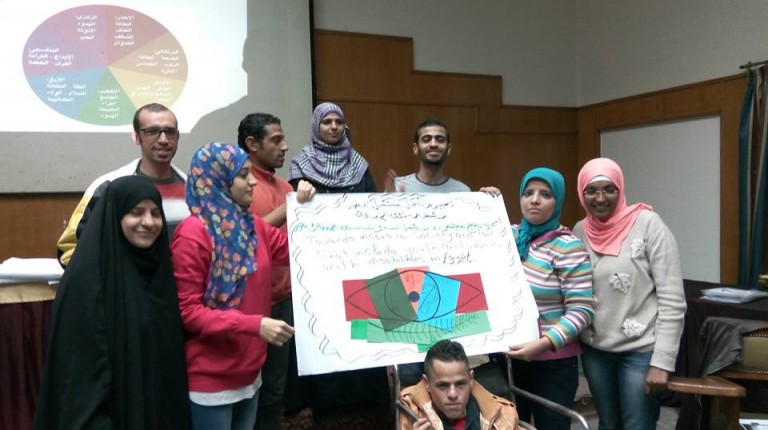 The modern world has managed to create endless methods and inventions to facilitate daily tasks and widen the horizon for creativity. Nonetheless, with every new invention comes a new stereotype that turns the city's modern life into a double-edged weapon.
Jude Benhalim started a story of womanhood and freedom a few seasons ago. Her eloquent jewellery has introduced a female spirit that represents an entire generation of women, which carries a wild soul. With the use of calligraphy and a rainbow of acrylics, Benhalim has successfully managed to create a symbol of individuality: the Arabic bullet.
The young designer celebrated the launch of her newest chapter at CoLab earlier this week. After her heroin finally found her true identity through Benhalim's SS16 collection, this time the story unfolds a new volume.
"This collection is called 'Urban Rebel'. It is inspired by the city and urban structures. Basically, it is about breaking away from the limitations of the urban life, the system that often forces you into a role that you do not necessarily see yourself in," said Benhalim.
According to the designer, urban life tends to make people lose sight of their own individuality and who they truly are. Accordingly, she wanted to reach out to women stuck in societal-forced roles to help them break free and restore their dreams.
"This collection is a stop in the journey of the female spirit. After 'Spectrum', she finds herself overwhelmed by the city and the system that tells her what to do with her life. She found herself falling into a role of either being a housewife or a workaholic or any other pre-planned scenario," the designer said.
Along with Benhalim's signature calligraphy and empowering lyrics, the new collection has an evident geometrical influence that the designer got from the city's tunnels, railways, roads, wire fences, and underground pipelines. Meanwhile, the colour pallet varies between purple, pine green, brick red, petrol blue, and rusty gold.
The designer used her apathy towards the city's soulless layout and vibes to create a diverse collection of rebellious designs. Every piece represents the city's unseen beauty and hidden details.
"Personally, routine and the urban system make me feel consumed and brainwashed by all the ads in the streets; it is absolutely ugly. Accordingly, I am very excited to see where she goes next; away from the ugly system and instead head where she can get in touch with herself," said Benhalim.
With that said, this collection witnesses a major shift for the brand. Benhalim has been notoriously acquainted with her lyrical bullets. Since the label's inception, the designer has kept working on inventing and reinventing her signature design. Nonetheless, "Urban Rebel" is the designer's very first collection away from her greatest hit.
"I was very worried about leaving the bullets behind. I was scared because I believe that by now people instantly recognise it as my signature. Therefore, this creative step was a bit risky in terms of branding; nonetheless, I tried to maintain part of the brand's aesthetic," said Benhalim.
Despite the designer's desire to prove that she can create another signature over the course of a few collections, she still managed to maintain parts of the bullet in "Urban Rebel". Furthermore, she has also made acrylic and colourful stones the core of this collection as a continuation of her aesthetic.
"Shaping and moulding the acrylic to this extent has been a bit of a struggle. Local craftsmanship did not make it any easier; it is very difficult to get such a thing done in Egypt. You would look at it and think that it is just curved or cut to a certain shape; nonetheless, the amount of work, brainstorming, and trials that go into every piece is unbelievable," said Benhalim.
Along with the creative showcase and screening of the collection's video shoot, the designer introduced a glimpse of her workshop in the heart of CoLab to give her clients a sneak peek from the preparations involved in creating each piece. According to the designer, playing with materials and experimenting with new concepts is the main reason behind her passion for jewellery.
On the other hand, the designer also tackled Azza Fahmy's influence on the local jewellery industry, as well as her very own new collection.
"I feel like there is always an inspiration coming from Azza Fahmy's work because she was the first to become famous for using Arabic calligraphy. It does not upset me that people question her influence on my work because I believe that what makes my jewellery authentic is that I take traditional art jewellery and mix it with modern fashion," said Benhalim.
The collection was debuted at CoLab before being made available for purchase at a few other local destinations.
"I think CoLab fits the theme perfectly. It is a very interesting space; it has an urban vibe and I love the installation at the entrance. However, the black room is my favourite because it plays on the senses and it gives you a glimpse of what is coming. We did not have to change a lot; it was already cool," said the designer.
"Urban Rebel" is set to be available at Pop-Up Shop as well as Mounaya Gallery in Zamalek and through Benhalim's website. On the other hand, Benhalim along with her PR agency, Flare, are currently working on introducing it to foreign markets.