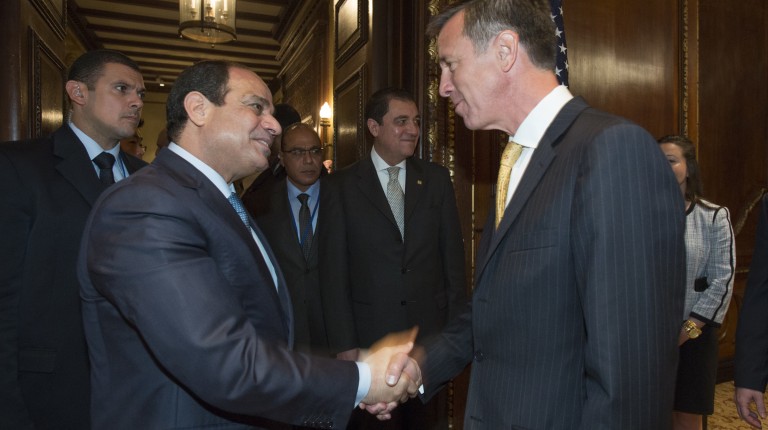 Defence Minister Sedki Sobhi and other high ranking officials from the Armed Forces paid a visit on Wednesday to Saint Mark's Coptic Orthodox Cathedral where they met with Pope Tawadros II of Alexandria to congratulate him on the occasion of the Christmas feast, according to a video released on the army spokesperson's Facebook page.
The pope expressed his deep gratitude to the army officials on the vivid role the army has played in renovating the St. Peter and St. Paul church.
On Saturday evening, the Egyptian Armed Forces announced that it had finished the renovation work on St. Peter and St. Paul church, which was attacked on 11 December by a suicide bomber allegedly affiliated with the Islamic State.
The renovation work was kicked off following instructions by President Abdel Fattah Al-Sisi to the armed forces to immediately begin renovating the church and fixing all the damage in 15 days, the army statement added.
The page also broadcasted a video of the church following the renovation work that was carried out inside and hosted some officials who carried out the renovation in order to have it ready by Christmas.
A nationwide mourning for the victims who were killed in the bombing of St. Peter and St. Paul church has overshadowed Christmas celebrations. On 11 December, the blast claimed the lives of 24 people, injuring more than 40 others, mostly women and children.
The death toll has climbed to 27 in the past weeks.
The Coptic Orthodox Church announced following the attack that Christmas celebrations on 7 January will still be held, amid high security measures announced by the Interior Ministry.