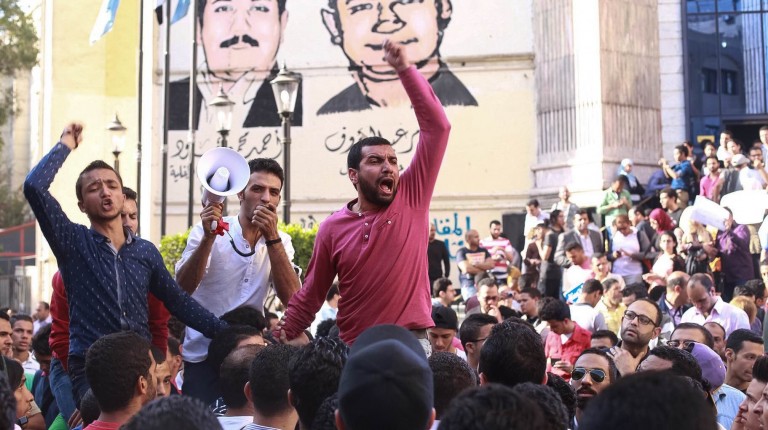 Political parties grouped under the Democratic Current decided to postpone their protest scheduled for Wednesday against the Egyptian-Saudi maritime demarcation deal to Saturday for legal reasons, lawyer Tarek Nagida told Daily News Egypt on Tuesday.
The protest was postponed after the Sayeda Zeinab police station approved to receive the protest notification on Monday and in accordance to the law 72 hours prior to the day of the protest, Nagida explained.
Lawyers of the Democratic Current went to the police station on Saturday to submit the notification about their scheduled protest on Wednesday, but the police station refused to receive it, and only approved it on Monday.
In mid-December, the Constitutional Court amended Article 10 in the Protest Law and banned the Ministry of Interior from rejecting protests, after it had been granted the right to do so.
The agreement that sought the transfer of the sovereignty of Tiran and Sanafir islands to Saudi Arabia is still disputed in court, and will be resolved by the Administrative Court's final verdict on 15 January.
The agreement has not seen any discussion sessions in parliament yet. However, the opposing lawyers and 120 parliamentary members believe that the parliament is not authorised to review such agreements.
Political parties under the Democratic Current arranged a meeting on Saturday to discuss ways of escalation after the cabinet sent the agreement to parliament for discussion, believing that this is a violation against the initial verdict by the Administrative Court on 21 June annulling the agreement.
Twelve activists were detained last week after they protested against the cabinet's decision, becoming the most recent group among hundreds of arrests made against the backdrop of the case since April.
Previously in April 2016, more than 250 protesters were arrested across the nation in relation to the issue. There are still people detained and also facing trials in governorates. The protests in April against the agreement caused numerous security raids of houses and coffee shops in downtown Cairo to arrest activists.