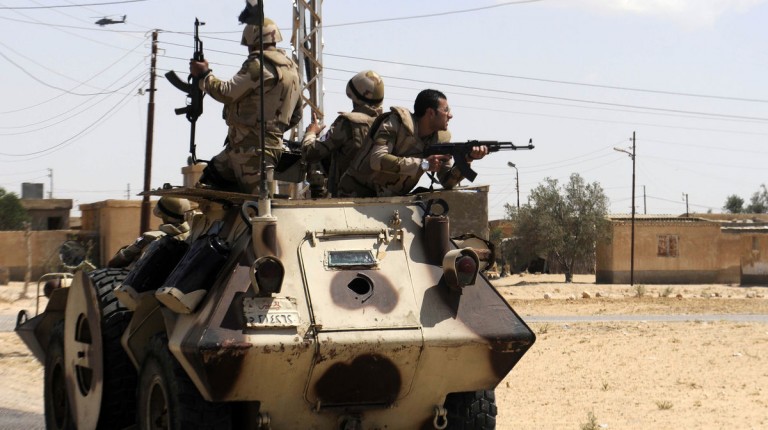 Five police conscripts were killed on Sunday evening in central Sinai when anonymous militants opened fire against them. The incident took place when militants stopped a minibus carrying the conscripts and killed them, a North Sinai based journalist told Daily News Egypt on Monday on condition of anonymity.
The conscripts were on their way back from their residences outside of the Sinai Peninsula to their camps in central Sinai. The militants ordered them to step out of the vehicle before opening fire, the journalist said.
"The militants followed the minibus when it left the bus station from Ismailia and then stopped on El Hasna highway in central Sinai and ordered the conscripts to get out of the vehicle before shooting them," the source explained. "They left the driver and other passengers in the minibus unharmed and then fled the scene."
The conscripts had been returning to their base after having been on leave.
The Interior Ministry did not publish any statement regarding the attack; however, army spokesperson Tamer El-Refaay released a statement to the families of the killed conscripts.
Moreover, security forces and other battalions affiliated to the army's sa'ka forces began wide sweeping operations in the area where the attack took place, aided by helicopters.
No militant group has claimed responsibility for the attack; however, the journalist believes the militants are members of Islamic State (IS)-affiliated group "Sinai Province" that frequently targets police, army, and civilians across the Sinai Peninsula.
Since 2013, state security forces represented in both the army and police have been engaged in violent clashes with "Sinai Province," known previously as Ansar Beit Al-Maqdis. In 2014, the group declared its affiliation to IS and has launched deadly attacks on army and police checkpoints.
Over the course of the last two years, the Egyptian Armed Forces launched counterattacks against militant stationing points across the Sinai Peninsula where the group is based, particularly in the cities of Sheikh Zuweid, Rafah, and Al-Arish.