With life following a faster pace controlled by technology and modern life, local fashion is forced to cope and shift in order to leap into the new millennium. Even though local brands are currently on the rise, the top tier is often specialised in couture rather than ready-to-wear.
On the other hand, streetwear has defiantly positioned itself as the era's top fashion genre locally and internationally with the help of influential individuals and well-known celebrities.
While Egypt still lacks a variety of home-grown streetwear brands, a regular walk through the streets of Egypt is sufficient proof that the local market completely understands the fashion genre.
Zang is a local brand that has been growing during the past few seasons with the goal of rising up to international standards. The streetwear brand is specialised in statement unisex hoodies and sweatshirts. Each of their designs is a combination of hip hop culture, music, and modern "swag."
With that said, Zang has just celebrated the launch of their long-awaited winter collection, which took a year in preparation. "Vandalism" aims to speak to rebels who strive to let their full potential come out.
Daily News Egypt met Bassam Emam, founder of Zang, to talk "Vandalism", streetwear, and brand maturity.
What is the main inspiration behind "Vandalism"?
"Vandalism" in this context is all about overcoming personal and societal barriers to achieving our dreams. So often we are told to lead a "normal life;" to pick a "respectable" and "sustainable" profession such as being a doctor or an engineer.
We are essentially asked not stand out too much. Accordingly, we wanted to create a collection that would motivate individuals to be true to themselves and their passions.
We wanted to inspire people to follow their hearts even though it may seem crazy, risky, or unattainable at times. We want people to choose the extraordinary path in a very ordinary world.
This collection could be considered the sign of an upcoming evolution of Zang. Where is the brand heading?
As always, Zang will continue to bring different and unique collections each season to adapt to the needs of the local market and the streets of Egypt; just like a chameleon, our logo, adapts to its environment.
Meanwhile, we are indeed exploring our Egyptian roots and we strive to incorporate more of this identity into our designs. We are playing around with Arabic typography and looking to the Egyptian culture as inspiration for our designs.
What triggered this sign of maturity? 
I think it has all been a very big learning process for us. We are still a fairly new brand and with every collection we learn and grow.
As we moved forward with the current collection, there was a need for us to create something more meaningful. Of course, we want to create something "cool", "dope", and fashionable that people will love wearing; but, we also want Zang to allow individuals to express themselves.
Is depending on a team of designers an edge or a weakness? 
An edge, definitely. I would say the challenge is finding a good team of designers that shares your vision and is dependable.
Once you find these people and you see how they can materialise your ideas into designs, it becomes a full circle and you end up building some pretty great relationships on this kind of creative connection.
We are very lucky to have a great team of designers at the moment.
What was the brief that you gave your designers ahead of this collection? 
First of all, we wanted this collection to be black, white, and gold. Next, we wanted the designs for "Vandalism" to be edgy, intense, and representative of urban anarchy.
In this way, it was meant to be rebellious and all about fighting limitations and barriers. We sat down with the designers and talked about the idea behind "Vandalism".
While discussing the collection's direction and aesthetic, some keywords came out frequently; therefore, they became the main themes behind our designs.
Which item was the most challenging during production?
Every production of every item is a challenge in Egypt. If you do not have a strong quality control department, you end up like everyone else.
Retail production in Egypt is still a young industry; accordingly, you always need to keep your production house updated with the trends while educating them regarding the importance of details.
Most suppliers are not used to high-end production and we strive for high quality; therefore, it is always a challenge.
Which item is your personal favourite and why?
The Zang signature sweatshirt. The Zang signature is and will always be the unique item in each collection. It represents a constant element along with the Zang name, which is also at the basis of our identity.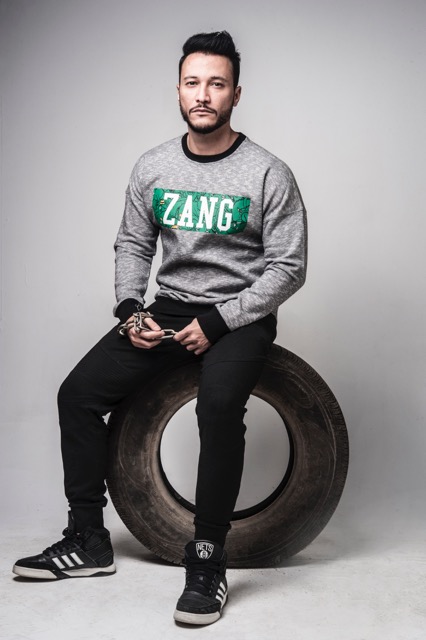 What were your main criteria when choosing this season's ambassadors? 
For the Zang Gang project we wanted to pick a few individuals that have public influence and that many people look up to. With today's social media power, it is very easy to forget that these bloggers, models, DJs, etc. are still "normal" people, who have faced (and continue to face) struggles on their way to success.
We wanted to share their stories in an attempt to help their audience further relate to them and get personally inspired to overcome their own limitations and fears.
Why did you decide to pass on the summer season and launch your collection now?
To be honest, we simply were not ready for the summer collection. As previously mentioned, we took a turn where we wanted Zang to be more meaningful.
We had a few designs in mind for the summer collection, but did not quite figure out how to put it all together in a powerful way. We did not want to release something that was only half done.
We decided to turn all of our efforts and time into a winter collection that would properly introduce this "new" Zang and really do justice to our vision.
Why did you choose to launch this collection at Cairo Jazz Club?
Cairo Jazz Club really is one of the most popular and coolest venues in Cairo that hosts the best type of entertainment; we personally love spending our nights there.
We knew we wanted to launch one of our collections there for a long time as we wanted to attract a trendy audience.
Having a fashion presentation in a bar is also pretty unconventional and would be completely new for both us and Cairo Jazz Club. Everything came together perfectly since "Vandalism" is all about standing out and not conforming to expectations.
What is the upcoming step for Zang? 
We really want to focus on raising awareness regarding streetwear culture in Egypt right now; additionally, we try to fill the gap that is present in the market.
We hope to expand our range of products and styles as we go. Accordingly, Zang will release two very special collections this summer.
As 2017 rolls around, we hope to start a fitness fashion line under the Zang name. Once we are established in Egypt, we would also like to expand into the Middle East.