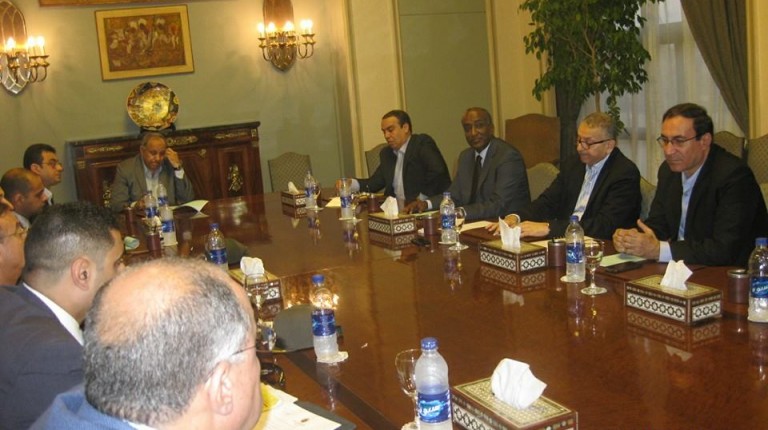 As a part of the efforts exerted by Egypt to support a political settlement in Libya, the Libyan National Committee held a meeting on Monday in Cairo to discuss the latest developments regarding conditions in Libya and efforts to resume dialogue between the Libyan factions, the Egyptian army's spokesperson said in a statement.
According to the statement, the committee asserted that a consensual solution to the current Libyan current crisis is the only viable solution that will preserve the Libyan people's unity. Moreover, it expressed its appreciation of the willingness of all Libyan factions regarding efforts to end the current political turmoil.
"The National Committee assigned to achieve reconciliation in Libya expresses its appreciation of the high degree of cooperation by all Libyan entities that are present in the meetings being held this week by the Libyan parliament and the Libyan Higher Council of the State to implement the recent results of the Cairo meetings," the statement read.
Meanwhile, the committee said that the Libyan people currently have a historical opportunity for open dialogue and to reach a consensus that will contribute to curbing any attempts of foreign interference in Libya's internal affairs.
Since the beginning of 2017, the Egyptian armed forces, represented by its Chief of Staff, Mahmoud Hegazy, playing a mediator role in paving the way for a comprehensive reconciliation that includes all Libyan political entities and puts an end to the ongoing unrest and civil war there.
Hegazy in January carried out several meetings with many Libyan political and military representatives in order to achieve a solution. His meetings also included one with the head of the UN special mission to Libya, Martin Kobler, that discussed the results of the meetings held in Cairo with the Libyan political factions.
According to a statement issued at that time by the armed forces' official spokesperson, attendees of the meeting included members of a committee of the Egyptian army that is assigned to supervise and discuss the situation in Libya.
 The meetings regarding Libya that are held under the auspices of the Egyptian armed forces are discussing updates on the Libyan political situation and ways to achieve reconciliation between Libyan entities in order to restore security and stability there, according to army statements issued after these meetings.
Recently, Hegazy met with president of the Libyan presidential council, Fayez Al-Sarraj, to discuss possible solutions to the situation in Libya. Al-Sarraj noted at that time that the situation in Libya is complicated by political reluctance.
He moreover emphasised the necessity of national dialogue and warned of internal conflicts.