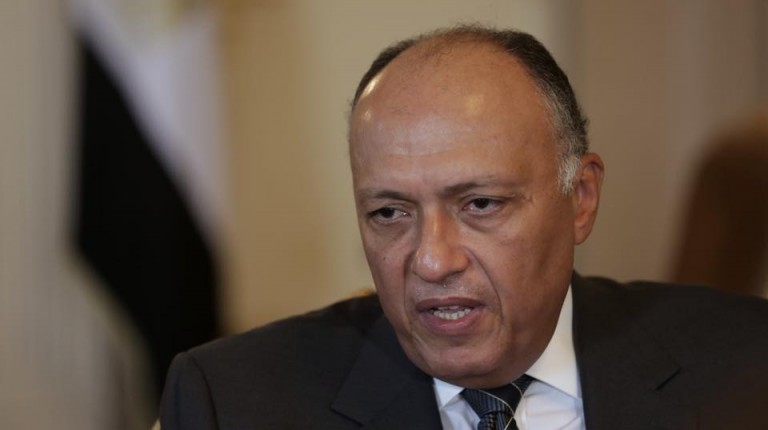 Egyptian Minister of Foreign Affairs Sameh Shoukry made a phone call to the president of the Libyan presidential council, Fayez Al-Sarraj, in which their discussions mainly focused on the updates of the situation in Libya.
During the phone call, Shoukry confirmed the importance of Egypt's role and efforts in maintaining stability in Libya. The call is part of Egypt's continuing work to address the Libyan crisis and review the latest updates and its security conditions.
Shoukry confirmed Libyan parties' efforts to reach immediate agreements leading to mending the rift between the Libyan people, as well as reunification. He also confirmed that these parties are working hard to resolve the current stalemate in the political scene in the country.
He concluded by asserting the importance of strengthening dialogue on the Libyan crisis.
Commenting on Egypt's efforts in Libyan situation, Amani El-Tawel, the director of the African Programme at the Al-Ahram Center for Political and Strategic Studies, said that Egypt's efforts in Libya are very effective in maintaining security conditions and also in monitoring the Libyan political agreement "Al-Sokhairat."
She added that we cannot consider all the promising things that Libya has achieved so far as results only due to the Egyptian support or contribution, noting that Egypt is working with different factions in the region to solve the crisis.
Early in March, President Abdel Fattah Al-Sisi confirmed during his press conference with German chancellor Angela Merkel the Egyptian efforts to support Libya, as it wants to reach a political solution in Libya and preserve its territorial safety without division, noting that the Egyptian efforts did not fail, but rather require more work.
Egypt made progress regarding the Libyan situation as it attended meetings with a number of significant high-level Libyan figures, aiming to reach possible solutions for the Libyan conflict.
In February, Shoukry attended a tripartite meeting with Algeria and Tunisia to continue discussions over Libya's situation and further steps to activate the Tunisian initiative to resolve the Libyan crisis through the cooperation and coordination of the three countries.
Egypt has actively sought a solution to the Libyan turmoil over the past few months, which has increased over the past few years following the downfall of Muammar Gaddafi, as militants have taken over several areas in Libya.