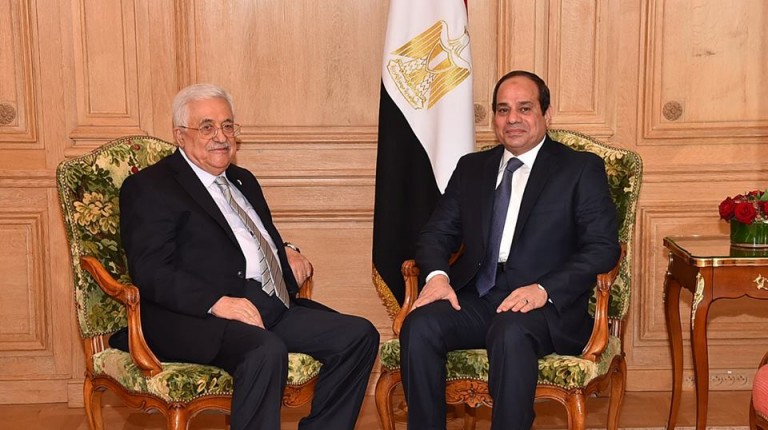 In his official visit to Egypt, Palestinian president Mahmoud Abbas arrived in Cairo on Sunday and met with his Egyptian counterpart, President Abdel Fattah Al-Sisi, on Monday in the Itihadiya palace, Palestinian state-run news agency reported.
The meeting touched on the general developments in Palestinian territories, the expansion of Israeli settlements, and the failure of the peace process between Palestine and Israel due to the latter's obstinacy, in addition to other subjects related to the upcoming Arab summit, to take place by the end of March in Jordan.
During the meeting, both presidents asserted on the necessity of all Arab nations to coordinate their support for the Palestinian cause. They also stressed on the two-state solution and called on the activation of decision no. 2334, issued by the United Nations Security Council, which stipulates the non-legitimacy of Israel's ongoing settlement expansion in the occupied Palestinian territories.
Meanwhile, Abbas expressed his gratitude for the role Egypt plays in supporting the Palestinian people and its efforts exerted to put an end to the division between the different Palestinian factions.
The meeting witnessed the presence of both the Egyptian and Palestinian heads of intelligence, in addition to the presence of Egypt's Minister of Foreign Affairs, Sameh Shoukry.
On Sunday, Abbas arrived in Egypt on an official visit that came after receiving an invitation from Al-Sisi to discuss the conditions of the occupied Palestinian lands. Following his arrival, Abbas held a meeting in his Egyptian residence with Shoukry, according to a state-run media outlet.
The meeting with Shoukry touched on the exerted international efforts to revive the political process that aims at guaranteeing the Palestinian people's rights and establishing an independent Palestinian state with Eastern Jerusalem as its capital.
Palestine is an important topic of discussion for Egyptian diplomacy.
In February, the Israeli parliament passed a bill that retroactively legalises almost 4,000 settler homes built on privately-owned Palestinian land in the occupied West Bank. The bill grants the original inhabitants of those lands financial compensation or alternative land. The decision was condemned by Egypt, describing it as hindering the peace situation in the Middle East.
Abbas considered the bill to be an aggression against his country. A number of countries, as well as the European Union, condemned the bill.
Another statement that stirred controversy was that of Israeli deputy minister Ayoob Kara, who claimed that Israeli prime minister Benjamin Netanyahu and US president Donald Trump are to discuss a plan to establish a Palestinian state in Gaza and the Sinai Peninsula, away from the West Bank.
The statements were also condemned by the Egyptian and Palestinian authorities, both of which denied such agreements, describing them as "silly".