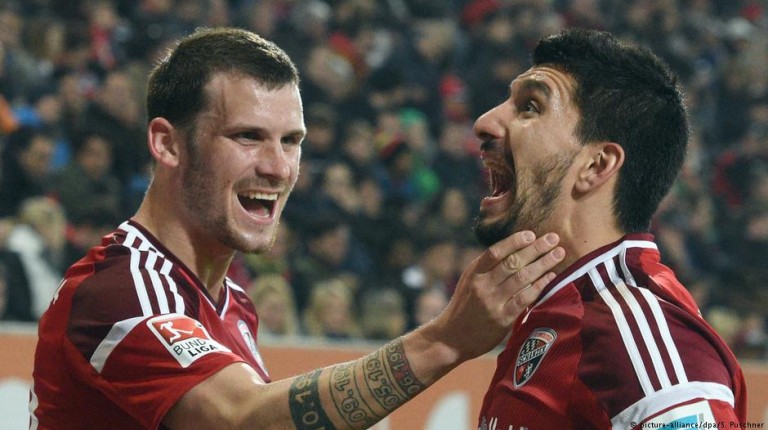 Nobody thought Ingolstadt still had it in them to get back in the fight, but that's exactly what they have done. Seven games left in the season, and by Sunday they could be just one point off safety.As the relegation fight threatens to engulf half the Bundesliga, many sides are crumbling under the pressure.
Wolfsburg have stuttered in their attempt to move clear of the relegation zone, while Mainz and Augsburg have fallen apart. Second-bottom-of-the-table Ingolstadt, meanwhile, have been playing good football since Maik Walpurgis was put in charge in November last year. Now, with expectation well and truly off their shoulders, they look one of the few sides up for the fight. The obscure appointment of Walpurgis has already paid off. A team that appeared to have no chance of survival has suddenly given themselves exactly that exactly when they needed it.
Losing to Augsburg would have left Ingolstadt seven points off a relegation playoff spot. Beating them has left four points adrift. They might have wobbled at the end, but on the whole they looked like a team full of belief, unlike their opponents. Ingolstadt haven't just been spitting out statements of hope in recent weeks, they've been backing it up with performances – and in the last two games, results too.
Walpurgis' team have come close to points plenty of times this season – losing by one goal five times under their head coach. Anyone who has watched their games will have noticed a marked improvement since his arrival and unlike Darmstadt they have shown enough quality to convert their efforts into points – even if their squad feels just as mediocre as the bottom-placed club.
While Julian Nagelsmann's heroics at the other end of the table rightly do wonders to highlight his talent, Ingolstadt are working hard to show that a company club can also have heart. They didn't arrive in the Bundesliga with the same romantic story as Darmstadt, but they look the more determined of the two to stay. Losing their star coach threatened to derail them, but here they are, fighting furiously. For a side who weren't given a chance from the first day of the new season that deserves recognition.
The nature of the Bundesliga this season means it can all change by Sunday, but Ingolstadt are alive and kicking with seven games left. On Sunday, they are playing Darmstadt. Three more points there wouldn't be unexpected and if Augsburg and Mainz don't pick up anything against Hertha and Freiburg respectively then Ingolstadt would potentially be just two points (or one point and a handful of goals) from safety.
If Walpurgis keeps Ingolstadt in the league then it be as remarkable a story as Nagelsmann getting Hoffenheim into Europe. Granted, it will have taken a dramatic drop off from a team like Augsburg, Mainz or maybe even Wolfsburg but it will have also taken some remarkable fight from Ingolstadt – a team most people had already forgotten about.