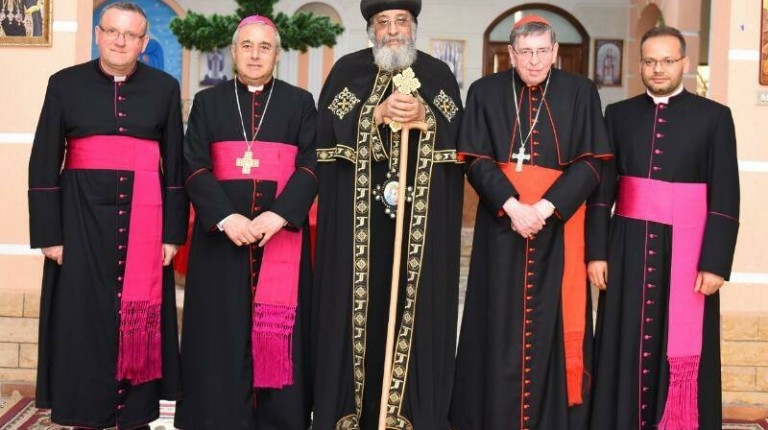 In the aftermath of Palm Sunday's terror attacks on two churches in Tanta and Alexandria, Pope Tawadros II on Tuesday received a delegation from the Vatican, who expressed their condolences on behalf of Pope Francis, the Coptic Orthodox Church reported Tuesday.
This comes ahead of the Pope's confirmed visit to Cairo on 28 and 29 April. Sunday's attacks left at least 45 people dead and over a hundred injured in two separate but subsequent bombings at Mar Girgis Church in Tanta and St. Mark's Coptic Orthodox Cathedral in Alexandria.
A delegation from the church visited some of the injured in the Tanta bombing. Moreover, the Health Ministry said Tuesday that 16 people left Alexandria hospitals and two left Tanta hospitals, concluding that a total of 44 injured remain in hospitals in both cities.
The attacks sparked the implementation of a three-month state of emergency by President Abdel Fattah Al-Sisi, the formation of a new national council to combat terrorism, and the opening of debates on means to face extremist speech.
In an event held on Tuesday by the Ministry of Religious Endowments, Minister Mokhtar Gomaa stated that there should be no differentiation between a mosque and a church, and that those who died in a church are martyrs, state media reported.
Gomaa reportedly added that religious interpretations should be reconsidered in order to adapt to new circumstances and that efforts with the Al-Azhar institution to regulate the issuance of fatwas should be pursued.