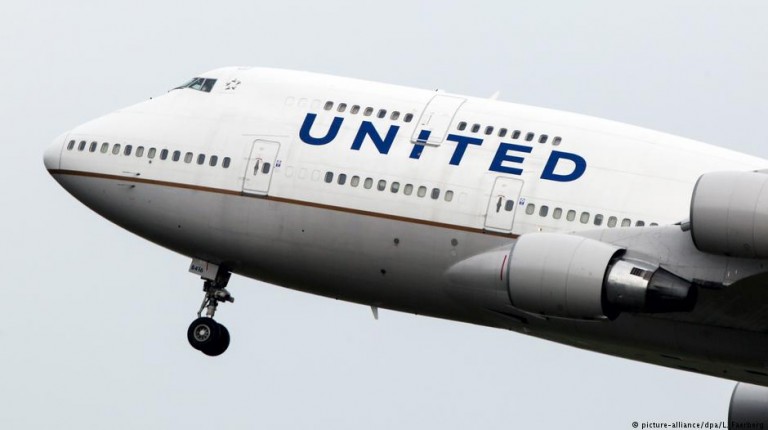 United Airlines has said it will offer passengers up to $10,000 to surrender seats on overbooked flights to repair the damage from the rough removal of a passenger. Other airlines are taking similar measures.United Airlines on Thursday announced it would offer bumped passengers up to $10,000 (9,164 euros) in compensation and reduce overbooking following the dragging incident on board one of its flights that caused worldwide outrage.
The offer came after rival Delta outlined plans to offer up to $9,950 (9,119 euros) in such cases.
The changes, which United called "substantial," are the result of a two-week internal probe of the April 9 incident, the video of which went viral. Passenger David Dao was pulled from his seat and dragged off the full plane by airport security in Chicago to make room for airline crew. Dao lost two front teeth in the scuffle, incurred a concussion and had his nose broken, according to his lawyer, and will likely sue the airline.
The footage of the incident captured by fellow Flight 3411 passengers – which included images of a bloodied Dao – resulted in widespread indignation. After initial missteps in which they appeared to at least partially blame Dao, the carrier and its CEO Oscar Munoz apologized repeatedly and launched the internal review to find out what went wrong.
"Our policies got in the way of our values, and procedures interfered with doing what's right," Munoz said in a statement announcing the results of the review. "This is a turning point for all of us at United, and it signals a culture shift toward becoming a better, more customer-focused airline," he said.
United also reduces overbooking
The carrier's report highlighted 10 changes, including reducing overbooking – the practice of selling more tickets than seats on a plane to account for no-shows – on certain flights "that historically have experienced lower volunteer rates," United spokeswoman Maggie Schmerin said.
"There was ambiguity [on the maximum cash offer] under our previous policy, which is why we are changing it moving forward," Schmerin said. The crew on Flight 3411 had only offered $1,000 (916 euros), the report said.
United typically oversells flights by up to 3 percent of the plane's seat capacity to account for no-shows.
Such flights include those that are the last of the day and on smaller planes, both of which were factors on Flight 3411. Without enough volunteers to take later flights, airlines are forced to involuntarily "bump" passengers off overbooked flights.
Other changes include a new customer service team to find "creative solutions" for passengers whose flights are disrupted or overbooked – solutions such as flying to alternate airports and using ground transportation.
CEO Munoz, who took the helm at United in 2015 as part of an effort to improve customer relations, has faced calls to step down after referring to Dao as "disruptive and belligerent" in a statement following the incident. It sparked a national conversation on US carriers' treatment of customers in an industry comprising just a handful of competitors following years of mergers and consolidations.
Last week, United had announced that Munoz, in a move he himself initiated, would not become company chairman in 2018 as stated in his employment agreement.
bb/hg (Reuters, AFP)