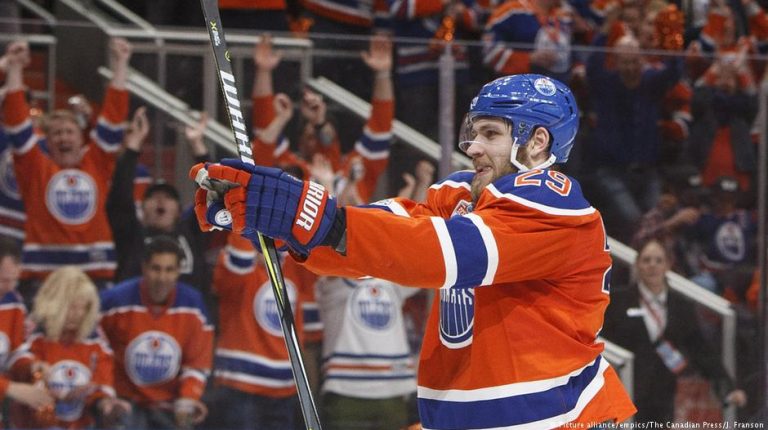 Germany, who have been weakened by an injury to a key forward, are about to get some welcome help from the NHL. Leon Draisaitl of the Edmonton Oilers has confirmed that he will join the national team in Cologne.From the moment the Edmonton Oilers lost Game 7 of their NHL Western Conference semifinal 2-1 to the Anaheim Ducks, German hockey fans had been waiting for confirmation that the country's most talented young star would fly to Cologne to join the national team at the world championship.
This confirmation came late on Wednesday, when the German ice hockey association (DEB) announced that 21-year-old Leon Draisaitl would arrive in Cologne- the city hosting Group A of the IIHF Ice Hockey World Championship – on Saturday morning.
"I am of course still very disappointed about being eliminated from the playoffs," Draisaitl was quoted by the SID news agency as saying. "I had one eye on the world championship the whole time and I am looking forward to helping the team on home soil," the Cologne native added.
However, it remains to be seen whether Draisaitl will be in the lineup when Germany face Italy on Saturday evening.
"First I will have to see how he feels," head coach Marco Sturm said. "It's been a long season and it is a long trip." Draisaitl is expected to be in the German lineup when they take on Latvia on Tuesday in their final and possibly decisive group-stage game.
The slight doubt about whether Draisaitl would come to the world championship had to do with technicalities relating to insurance, as his contract with the Oilers is set to expire and talks are ongoing on an extension.
Grubauer's participation doubtful
There had also been much speculation that goaltender Philipp Grubauer could also make his way to Cologne after his Washington Capitals were eliminated by the Pittsburgh Penguins. This now looks less likely than 24 hours earlier.
"It simply has to make sense," coach Sturm said, explaining that whether or not Grubauer would be called in would depend on the fitness of first-choice netminder Thomas Greiss, who left Wednesday's game against Slovakia with an "upper body injury."
"It (the injury) is not that bad," Sturm said.
Germany's next game is against Denmark on Friday evening. After four of their seven Group A games, Germany are in fifth place, two points behind Sweden. The top four teams in the group advance to the quarterfinals.