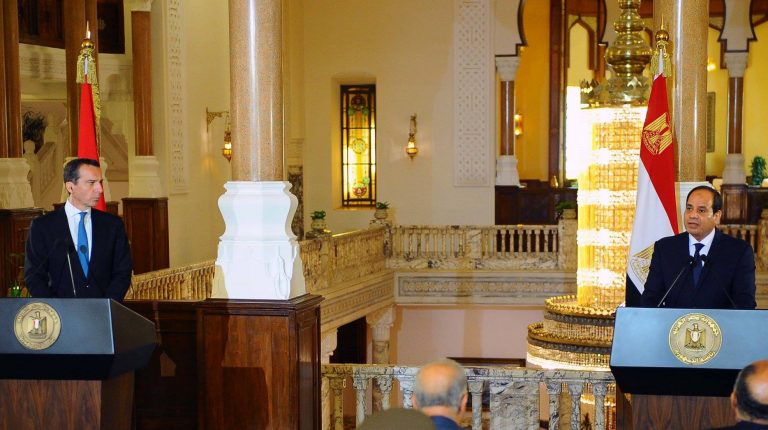 President Abdel Fattah Al-Sisi received Austrian chancellor Christian Kern in Itihadiya Palace on Wednesday. Al-Sisi discussed with Kern bilateral relations and ways of boosting them, issues of common interest, and increasing the trade exchange.
The Austrian chancellor expressed his pleasure to visit Egypt and praised the developments in security and economic issues, according to a statement issued by presidency spokesperson Alaa Yousef.
During a press conference, President Al-Sisi asserted that he and Kern agreed to coordinate efforts between Cairo and Vienna to counter terrorism. Al-Sisi also praised the unique relations between Egypt and Austria.
Also, Al-Sisi pointed out that the two countries have a common view towards several international and regional issues, and "we agreed to exert more efforts in the international forums regarding Syria and Libya."
The president added that Egypt approaches an honourable foreign policy, because Egypt is a rational country that respects its commitments and does not interfere in any country's internal affairs. Egypt is not a follower, Al-Sisi said.
The Austrian chancellor said that his country is interested in stability in the region and that Egypt is the leading power in this region, expressing Austria's support for Egypt in its war against terrorism.
Also, Kern praised the current economic reformations in Egypt, describing them as bold decisions, and he stressed that the stability of Egypt helps in stabilising the whole region.
Kern said in the press conference that he believes that the economic reformation decisions are long term and sustainable.
"I discussed with President Al-Sisi the issues of refugees and immigration," Kern said. He stressed the necessity of finding a sustainable solution for this problem, and he praised the Egyptian efforts regarding this issue and its help in decreasing the number of migrants to Europe.
He pointed out that boosting stability in Libya contributes to stability in the wider region, asserting that Egypt contributed in closing borders and decreasing refugee numbers.