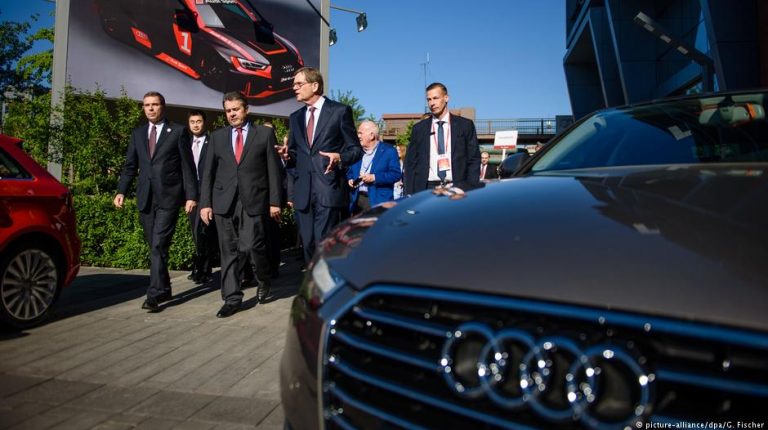 German foreign minister Sigmar Gabriel is expecting new Chinese rules on e-car sales to be relaxed, saying there was a deal with Beijing avoiding massive fallout from a speedy introduction of the quotas.On the sidelines of a visit to China, German foreign minister Sigmar Gabriel said on Wednesday that he expected an informal deal on e-mobility to hold. Negotiations on softening a planned Chinese e-car quota were "on the right way," after he was reassured that "German wishes will be respected."
Earlier this year, China's plan to introduce an ambitious sales quota for electric vehicles as early as 2018 was already the subject of a telephone conversation between German Chancellor Angela Merkel and Chinese premier Li Keqiang. Berlin also sent a high-level delegation to Beijing for talks on a compromise.
China has offered incentives for e-car purchases to help fight chronic air pollution. Last year, sales of so-called "new energy vehicles" (NEVs) jumped 53 percent to 507,000 units. But Beijing has begun scaling back those inducements, cutting subsidies 20 percent this year in a first reduction towards eliminating them by 2020. Instead, the government intends to force the hand of manufacturers.
Tall order
Under original plans, automakers in China were required to shift eight percent of their car sales in China to electric and hybrid vehicles next year. The quota would then increase to 10 percent in 2019 and to 12 percent in the following year.
The quota threatens to sink the lucrative Chinese auto market for international carmakers, hitting Germany's premium brands like Mercedes, BMW, and Audi especially hard as they dominate the segment.
But not only German carmakers complained that the quota would put them at a competitive disadvantage in China because they couldn't meet the targets so quickly.
Many large Chinese automakers also said they were far from being in a position to fill a substantial portion of their sales with e-cars and hybrids. The Chinese car industry association CAAM demanded that the quota be delayed by a year and then introduced at lower levels.
Compromise
So far, it's unclear what the deal struck between Beijing and Berlin looks like. Reportedly, it envisages the introduction of the eight percent target for NEV sales to be pushed to 2019.
Another idea circulating in the media is a reduction of the quota by two percent, meaning cutting the 2018 requirement to 6 percent to be followed by 8 percent in 2019 and 10 percent in 2020.
Two people familiar with the discussion at government level told the news agency Reuters there was still disagreement between China's Ministry of Industry and Information Technology (MIIT) and the country's top state planner, the National Development and Reform Commission (NDRC).
MIIT, which regulates manufacturers, supports a more flexible credit trading system favored by automakers. The NDRC is more aggressive in promoting a transition to electric vehicles, pushing the introduction of the stricter quotas.
While in China, the German Foreign Minister said the e-car quota was on the agenda of a visit to Germany of Chinese president Xi Jinping and Premier Li Keqiang in the coming weeks.
uhe/mds (Reuters, dpa)