Cairo is full of elaborate destinations that document the various eras this country has gone through. With historical events preserved at every corner and renowned buildings and streets that have witnessed the country's most impactful moments in time.
While inspired by the golden age of fashion and couture, Bambah is a modern brand that caters to nostalgic women, who would always favour a classic silhouette over a time-restrained trend.
The Dubai-based brand has come back for yet another charming shoot in the heart of Cairo in celebration of the new season. In collaboration with the country's most graceful representatives, Bambah took timeless fashion to the streets of Cairo.
The fashion brand reached out to the enchanting Ballerinas of Cairo to dance the summer away in buffed dresses and floral prints. The professional dancers were dressed by the brand and captured performing for a one of a kind campaign.
The graceful moves were a perfect match to the classic silhouettes. While Ballerinas of Cairo is a celebrated movement in support of spreading art and beauty in the streets, Bambah is an advocate for bringing back the magic of Cinema's golden era.
In a matter of a few hours, the campaign managed to attract outstanding attention. It is safe to say that the images were a respectable representation of the two parties, as well as the country itself. The images capture the ballerinas floating gracefully while the dresses obeyingly follow their gestures.
Daily News Egypt talked with Maha Abdul Rasheed, founder of Bambah, to learn more about the campaign, the selected dresses, and the massive feedback she has received after such artistic collaboration.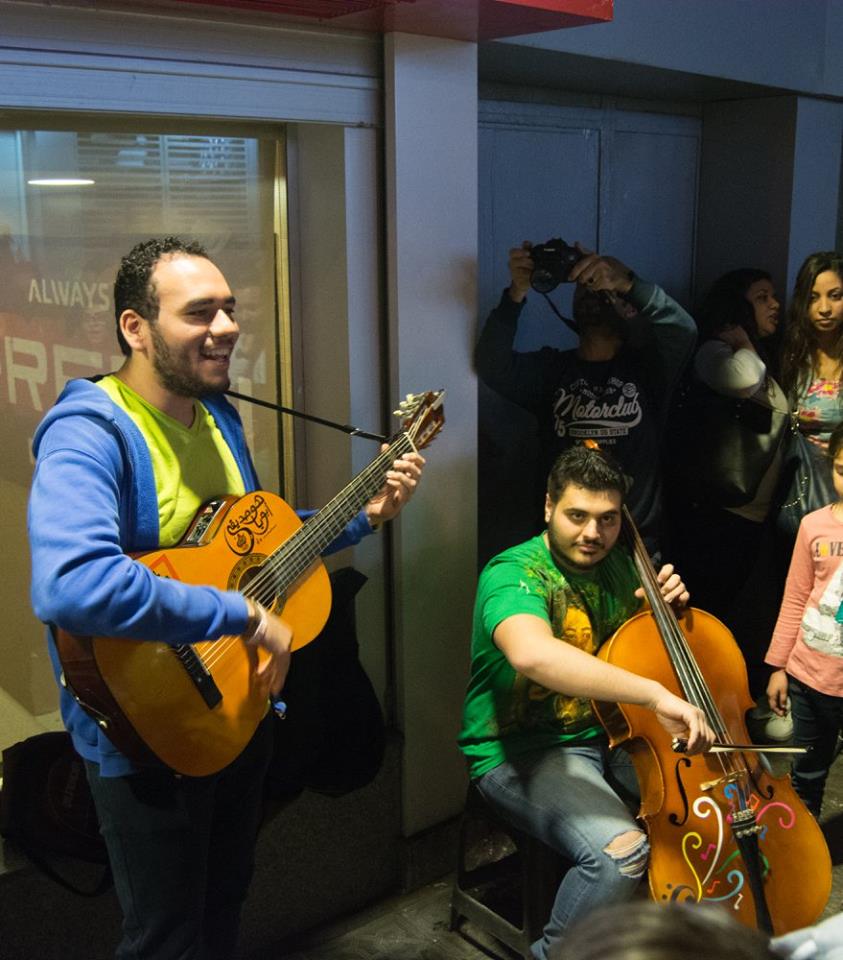 What encouraged you to work with Ballerinas of Cairo?
As an Egyptian, I was so impressed and mesmerised with Ballerinas of Cairo's work and how they bring out the beauty of our country. I immediately imagined how gorgeous it would be to showcase Bambah's gowns and iconic pieces, which move effortlessly, on such a lovely backdrop.
I loved the mix of the elaborate and antique buildings with our modern day twist and the '50s silhouettes.
Bambah's pieces are also very energetic and tend to move very well, so we thought no one could do them justice like a beautiful ballerina roaming around the streets of Cairo!
What area did you choose to shoot at? 
We wanted to shoot in some of Cairo's most iconic landmarks, including Moez Street, Qasr el Nile Bridge, Korba, and Downtown. They are incredibly rich with culture and history. In my opinion, they are the best reflection and representative of Cairo's beauty.
What did you plan to communicate through this particular campaign?
I would love for the world to see how beautiful my country is and to celebrate its incredible talent and creative drive.
You get inspired and recharged with so much energy just by simply walking down the streets and exploring their charm—this is something that I really wanted to highlight through this project.
How would you evaluate the feedback so far?
The feedback has been incredible! It is so lovely and heartwarming to see it being very well received.
Egyptians and non-Egyptians alike have expressed their love for the campaign and have flooded us with the best of comments. We feel so honoured to have contributed to something that has spread so much love and awareness for our country, Egypt.
The video got around 1 million views only on Facebook.
Why did you choose to shoot another campaign in Egypt despite being based in Dubai?
As a Dubai-based Egyptian, I always jump on any opportunity to get involved with Egypt and its incredible talent. Even though I have never really lived in Egypt, I have always been drawn to its authenticity and buzzing atmosphere.
I love the chaos of the city and all the different landscapes and escape resorts that it has. There is so much history and hidden treasures that take you on a wonderful adventure.
The overall vibe is a very happy cheerful one and the country is just so colourful and full of beautiful, confident women that dress for who they are. Meanwhile, this is the highlight of the campaign and the main element that I really wanted to bring out in the pieces.
What did you add to Bambah through the new collection?
We wanted to portray the 'best of Bambah' for this particular shoot; starting from the first season, SS15, till our latest FW17, which has not been fully revealed to the public yet.
It was almost like a celebration of our achievements to date, as each piece represents a very special moment that I would love to cherish forever. As our pieces are timeless classics, it was important to highlight the best styles that were received so well by our customers.
It is almost like an archive or a little exhibition reminding my team and I of all the wonderful moments we spent while designing each piece. Every Bambah dress occupies a very special place in my heart and if it was up to me, I would have showcased the entire line!