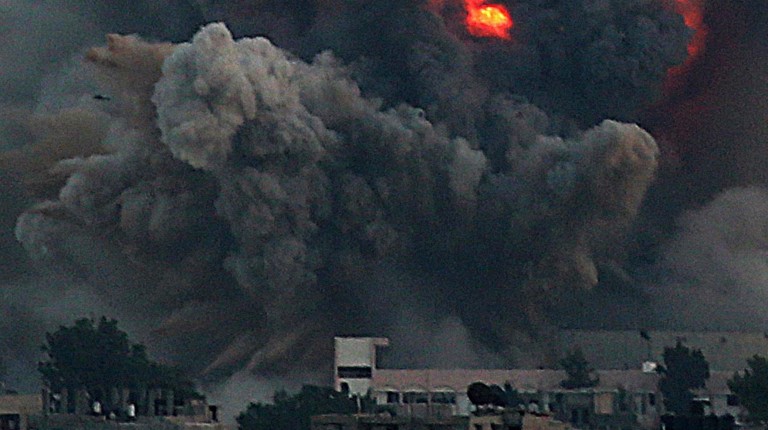 Egyptian Minister of Foreign Affairs Sameh Shoukry received on Sunday the Saudi minister of foreign affairs, Adel Al-Gubeir, to discuss bilateral relations.
This is the first meeting between the two counterparts since the recent US-Arab-Islamic Summit held in Saudi Arabia in May.
The visit comes within the framework of ongoing coordination and consultation between the two countries on the latest developments in the regional issues in the Middle East, means of combating terrorism, and following up on the agreements made on the sidelines of the US-Arab-Islamic-Summit.
The two ministers were also set to discuss the Syrian issue and means of assistance to help the Syrian people, although both countries have expressed different stances towards the situation in Syria, as Egypt expressed its support for the Astana ceasefire talks—held in May by Russia, Turkey, and Iran, as they agreed to establish four safe zones in Syria, supported by the Damascus regime and opposed by the Syrian opposition delegates—while Saudi Arabia has expressed an anti-Russian involvement stance.
Saudi local media reported that the meeting was set to consider the consequences of the latest statements by the Emir of Qatar, Tamim bin Hamad Al-Thani, whereas Shoukry and Al-Gubeir agreed that Qatar must change its policy towards terrorist organizations, as well as its policy towards Iran, in order to reach an agreement in ending the Qatari political conflict with Egypt and the Gulf countries.
Furthermore, the talks included discussions for solving the Libyan conflict, Egypt's airstrikes on terrorist groups in Libya, and the Algeria Meeting agenda, which will be held on 5 May and attended by the ministers of foreign affairs of Egypt, Algeria, and Tunis to discuss the Libyan conflict.
Egypt has carried out airstrikes on May 27 in the city of Derna in Eastern Libya, targeting terrorist groups following a shooting of Coptic Christians in Al-Minya that left 28 civilians dead.
Shoukry and Al-Gubeir also discussed means of enhancing bilateral relations and the acceleration of implementing bilateral economic cooperation and investments.
Moreover, discussions focused on Egypt's role in the conflicts in Syria, Yemen, and Libya, particularly because of its role as a current member of the United Nations Security Council (UNSC) and because Egypt's envoy, Amr Aboulatta, is the current chairperson of the UNSC Counter Terrorism Committee (CTC).
Egypt has been actively seeking peaceful and diplomatic solutions for conflicts in the Middle East, as well as seeking international support to combat terrorism, as Aboulatta called on Friday for a UNSC joint committee meeting to discuss means of combating terrorism in Libya on 27 June at the UN headquarters in New York City.
In April, Saudi Arabia's King Salman received Al-Sisi in Riyadh, after months of apparent tensions between the two countries, following Egypt's support to a Russian resolution in the UNSC concerning the Syrian crisis.