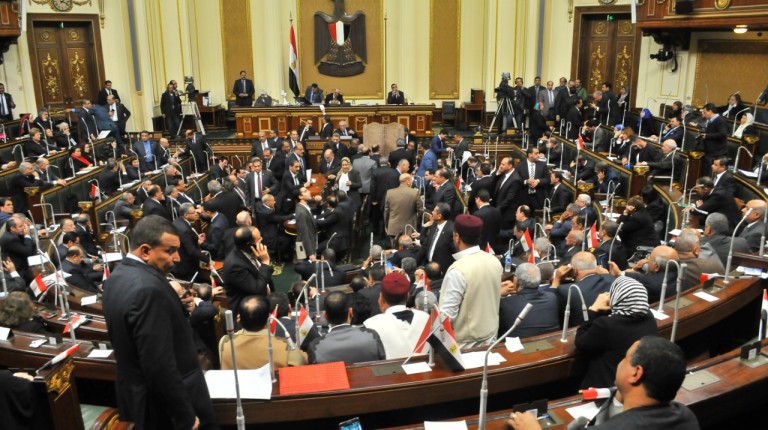 The parliament's Disciplinary Committee decided on Sunday to prohibit member of parliament (MP) Ahmed Tantawi from attending the parliament's next assembly, according to state-owned newspaper Al-Ahram.
In mid-June, speaker of the parliament Ali Abdul Aal referred Tantawi to the Disciplinary Committee for investigations on the accusations of insulting the parliament.
The parliament's Legislative Committee reported that Tantawi "dropped and smashed a microphone after taking it from the chairperson of the Geographic Association, Al-Sayed Al-Husseini," which the committee described as "an unprecedented incident in the history of the parliament."
The incident took place during the sessions to discuss the Egyptian-Saudi maritime demarcation agreement in mid-June, known as the Red Sea islands agreement, which witnessed tensions between members of the Egypt Support Coalition and members of the 25-30 Coalition, including Tantawi.
MP Haitham Al-Hariri, member of the 25-30 Coalition, said in press statements that the decision against Tantawi was meant to threaten the coalition rather than Tantawi himself, since the coalition was opposing the discussion of the Egyptian-Saudi agreement.
Al-Hariri also questioned the decision, adding that it was against the parliament's bylaws, which stipulate such punishment to be taken during the same assembly of the incident, not the following assembly.
The coalition is considered among the political opposition, contrary to the pro-state coalition named "Egypt's Support".
President Abdel Fattah Al-Sisi ratified the agreement after the parliament approved the Egyptian-Saudi maritime demarcation agreement on 14 June in a general session to transfer the sovereignty of the two Red Sea islands to Saudi Arabia.