Surrounded by white walls, Suhayla Al Sheikh carefully embraces her statement jewellery with both palms until she assigns every piece a certain corner to decorate. In a matter of few hours, the promising jewellery designer proudly scatters her collection of necklaces, earrings and bracelets around a designated art gallery in Zamalek.
Tonight, Al Sheikh plans to address the society in order to mould celebratory trophies out of pain. Once the awaited audience of fashion aficionados pour into the intimate space, the designer's smile widens before she launches into feverish explanation of her newest brain child.
The progressive designer dedicated months to dive into the unspoken hardships burn victims are required to come over every day in order to continue living. Every morning hundreds of real-life heroes stare back at the scars looking at them in the mirror and decide to delay giving up one more day.
Al Sheikh along with four brave women took a closer look at what the society stigmatize as repulsive to take in its hidden beauty. Their new perspective was then turned into stories of joy and energy to challenge expectations.
Nonetheless, the true magic occurred when scars that often live in the dark begged Al Sheikh to bring them to light. The designer turned skin's natural and permanent reaction to excessive heat into artistic silver tokens.
CICATRIX is the designer's newest collection, which takes its lines and motifs from scars. The unexplained and interlaced lines of few pieces highlight the undiscovered allure of the subject. On the other hand, the uneven surface of other items gives the wearer the chance to lay a soothing hand on a woman's accolade of survival.
Daily News Egypt sat with Al Sheikh to talk CICATRIX, society's conventional definition of beauty and intellectually challenging the so-called normal.
What was the main inspiration behind Cicatrix?
The initial inspiration—the starting point—was a stone called the Desert Rose stone. I used to collect these stones from the desert in Saudi Arabia during my childhood years and it holds special memories for me.
To reconnect with the memories and emotions revolving around this stone, I decided to approach it more maturely and I did a wide research around the history, form, material and function of this stone.
I was led into all kinds of realms and eventually specific aspects of the research led to CICATRIX. On the other hand, the second inspirational point was the four powerful women, who suffered from burn injuries.
Throughout history stones were used to either inflict pain on the body—such as when stoning a human as punishment – or were used to release pain from the body—such as Palestinian children throwing stones on Israeli tanks to release energy and express resistance.
I liked this contradiction between the two and decided to use it. In terms of form, the haphazard surface of the desert rose stone looks like scars on a human figure.
Therefore, I decided to take scars and turn them into jewellery as a way of taking pain and turning it into beauty and pride.
Can you please further explain the collection's name and essence?
The collection's name CICATRIX, is defined as "the scar of a healed wound". We are not trying to heal scars with this collection, we are trying to heal the wounds and pain behind the scars.
We are attempting to get women to view their scars in a way that holds pride, confidence and beauty; rather than eradicating the scars to forget the pain.
We are trying to heal their interpretation and perspective of emotional and physical scars.
The essence of the collection revolves around finding strength behind all the scars. CICATRIX is all about being proud of having endured pain and came out stronger, more aware and more powerful.
How did you come across the four ladies behind Cicatrix?
After deciding to turn scars into jewellery as a way of calling for a more positive approach towards physical and emotional scars, the question became; whose scars would I turn into jewellery?
Given that at Sandbox we try as often as possible to have not only a fashion purpose; but, also a humanitarian one. I decided to turn the scars of women who actually experienced pain at high levels.
I decided to do so for two reasons. First of all, I want to help people, who are truly struggling on levels that we are unaware of.
On the other hand, I wanted to address women through my jewellery and encourage them to perceive their struggles and scars in a rather positive approach. Therefore, unfolding real-life hardships within an artistic context was the ideal method to reach my goal and make these women open up to my jewellery.
Given that burn incidents are notably one of the most painful physical experiences, and given that burns leave such distinct and visible scars, I decided to collaborate with Ahl Masr Foundation to turn burns to jewellery.
I contacted a representative from Ahl Masr, pitched the idea, and then explained the collection's aesthetic and purpose. They suggested a few women from their foundation; according to what I was looking for.
I had a very memorable and valuable one-on-one sit down with each of them to hear their stories and get to know them.
In each of the four stories, which part(s) inspired you the most? 
Their struggles and their endurance towards these extraordinary circumstances were truly inspiring to me. One of the women was set on fire by her own brother; yet, no one would guess due to her optimism and positive approach to life.
The pain of having been through such an experience is still there; but, her approach towards what is yet to come is quite unbelievable.
The evident strength in all four women—in different ways—truly inspired me. We complain in our everyday lives about minimal things such as daily complications at work, the tough weather, or a forgettable problem with a friend; we even let it turn our day upside down.
These women however are enduring much more pain and struggle; nonetheless, they are doing their best to live and to find positivity hidden in the heart of each hardship.
It is something we should truly learn from. With that said, it is worth noting that not all four women necessarily portrayed positivity; however, all four had a sense of hope and keenness to grasp onto moving forward.
It is also worth noting that Ahl Masr plays a vital role with these women in order to improve their psychological state as well; the foundation's staff does an awesome job at it.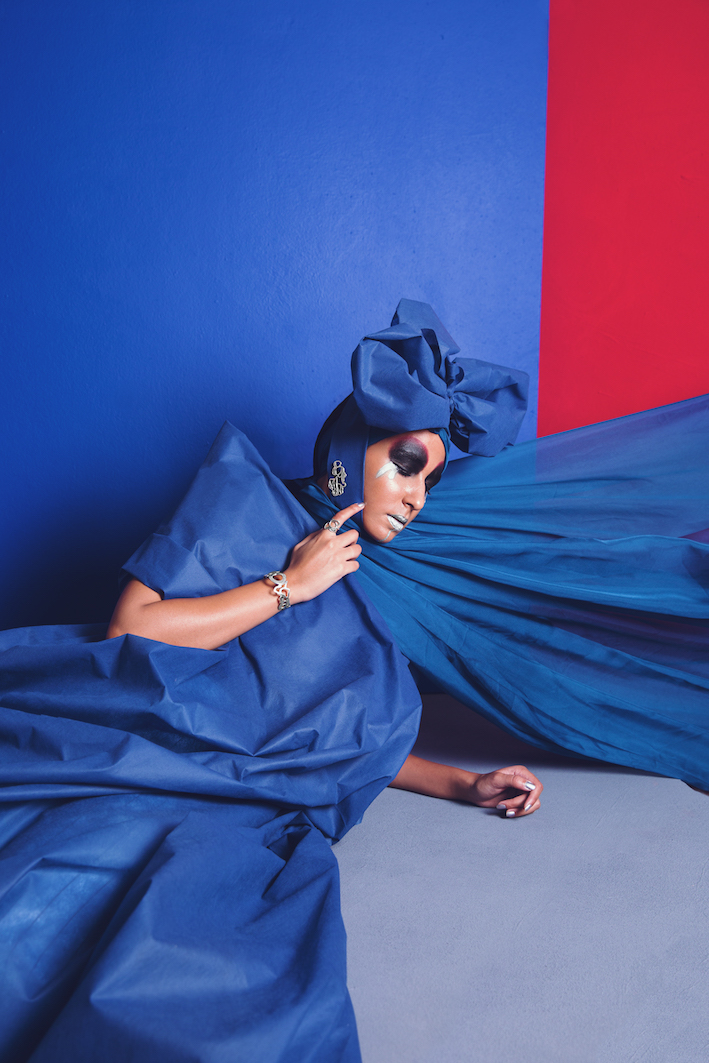 The idea of turning burn wounds into art is far from ordinary according to the local market. How did you artistically tackle such a controversial design aesthetic? 
I believe that the jewellery industry needs more daring concepts and designs. We need to challenge people with jewellery not just in terms of design aesthetic; but, creatively as well.
As I always say that jewellery to me is the most intimate form of art. CICATRIX—and my designs in general—aim to challenge the perception of jewellery and fashion in a way that neither harms nor offends anyone. Accordingly, I am not afraid of delving into controversial realms.
Pushing people expands their horizons of knowledge; on the other hand, it prepares their minds to accept new ideas and approaches.
This is what Sandbox is all about: in a sense—an escapade of gained knowledge and exploration through jewellery. To me, controversy is a necessary element that empowers me to reach my main goal.
What message do you aim to send through this collection to burn victims as well as the society around them?
The message is simply for the burn victims to see the strength in their scars. To see the silver lining. I want these heroes—and survivors of any other form of physical or emotional scarring—to see scars as a source of strength, pride and confidence.
In terms of society, this collection is more of a call for action; to redefine beauty and challenge its conventional meaning. To stop pitying those who have gone through certain struggles and rather celebrate their victory.
How are patients at Ahl Masr foundation going to benefit from this collaboration?
15% of CICATRIX's sales will go to Ahl Masr to help treat patients and build the first non-profit burn patient hospital in the world, which Ahl Masr is currently working on building.