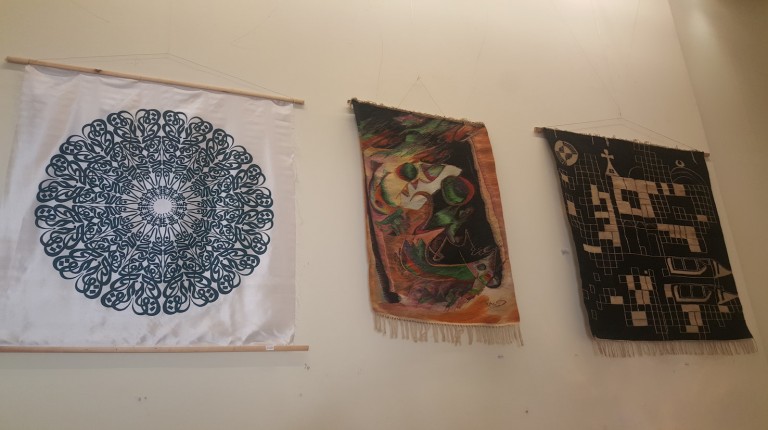 "Chester is not just a singer, and Linkin Park is not only a band for me. They are my family; the one that has driven me to light through my dark days and know me more than anyone else does," Lina Mohammed said in sorrow. She stopped for a minute to catch a breath and prevent a tear from shedding before adding, "I can't even believe he's gone!"
This was a part of Mohammed's feelings, which she shared in a speech among others who gathered Saturday night to share their heartache in a memorial for Chester Bennington.
Tens of loyal fans who have been severely touched with Linkin Park's lead singer's suicide gathered to commemorate his life and songs, which have had a huge impact on changing their lives.
The 41-year-old singer was found dead in his apartment in Los Angeles, Unites States, earlier this month after he committed suicide. Bennington was known for his long struggles with depression, alcohol, and drugs. However, his struggle got worse after his closest friend's Chris Cornell suicide. Bennington's suicide also matched Cornell's birthday.
The event was organised by Mohammed, 21, with the help of two friends whom she got to know through a common Linkin Park fan group.
"Most of foreign bands in Egypt doesn't have a common known platform to combine all of their Egyptian fans over," Mohammed said. "So when I decided to organise the memorial event, I believed that this would be the perfect chance to chain the separated fans with one lasting strong bond."
Despite believing that Linkin Park has a large number of fans in Egypt, when she was creating the Facebook event, Mohammed thought only dozens of people would be interested in attending such an event.
"Unlike many other countries, we (Egyptians) don't have the culture of fans commemorating a beloved singer widely spread. We tend to grief separately about their deaths," she explained.
However, she was mistaken.
Only one day after the launching of the Facebook event, thousands of people showed their interest in attending the event, which organisers had to change the place into a bigger room in order to accept the large masses that assured they'd attend.
"I never really imagined that Chester has this huge fanbase in Egypt," Mohammed surprisingly said. "I received phone calls from fans from different and distant governorates who desperately want to come, but the event's timing is too late for them and they have no place to stay at."
It's his songs that have created a virtual bond among millions of people across the world and thousands in Egypt, and his death physically strengthened this bond with gathering these people all in one place, she added.
Throughout the two-hour event in Maadi's Yellow Umbrella, fans shared their feelings towards Bennington's death, expressing how he had changed their lives and left an irreplaceable print on their souls.
One of the attendees shared his story with the others—who shortly got attached to each other like a family—remembering when his parents were forcing him to go into a certain collage to study something away from his passion.
"And listening to 'numb' was the thing that prevented me from doing so and drove me to follow my passion in life," he smilingly said.
As was listening to Chester singing, "I'm tired of being what you want me to be, feeling so faithless, lost under the surface," he decided to refuse what his parents were about to force him to do.
In Linkin Park's song "Numb", Bennington speaks of someone being forced to walk a path someone else has drawn to him, expressing his fears and refusal.
"Chester has changed my life, and I'm forever grateful. Every success that I have come to achieve in my life duo to his lyrics and songs," he smilingly added.
While each one shared their personal stories with Chester, they also started singing his songs that have helped them get over their inner darkness.
"We all knew that he has serious issues with depression, alcohol, and drugs, but none of us ever imagined that it would reach the extent of ending his life," Mohammed said.
The event ended by screening documentaries about Bennington's life in a gratitude to the positive difference he had made in other people's lives.
In the statement they released a week after his death, Linkin Park assured that the one main thing Bennington has achieved in his life is changing others' into the better.
"Dear Chester," Linkin Park wrote in its tribute, "you touched so many lives, maybe even more than you realized. In the past few days, we've seen an outpouring of love and support, both public and private, from around the world," the statement said.
The memorial is one of over 300 for Bennington all over the world. Since his death, his fans with the help of Linkin Park ambassadors have endorsed memorials all across Africa, Asia, Europe, Oceania, and South America.
Linkin Park's latest album "One More Light" hit the market earlier in May. After Chester's death, so many people started buying the album that it re-entered the Billboard's Top 200, reaching the 17th spot.
"We agreed that this is not going to be the only memorial held for Chester, and that we will organise several ones to gather the new family again," Mohammed concluded.