For years and years, men have contemplated the components of a woman's bag. One glossy publication after the other, asked the same question; what is often found in a woman's closest companion and why would one person need so many options of the same accessory?
With fashion changing and evolving, handbags have crossed gender boarders to reach a whole new demographic. Season after season, bags have become a daily accessory that many men accept as fashionable associates.
From duffel bags to business suitcases, today's number one accessory in the men's section comes in all sizes and shapes. It is currently common knowledge that no runway is complete without a bag and no outfit is ready to face the world without a hand-held accessory.
Kurtis Paul is a British name for handbags that appeal to men from around the globe. The contemporary brand caters for whom they define as 'The Modern Gentleman'.
According to the founders, he is someone, who is determined and on his way to great discoveries; always motivated by continuous self-development; intellectually and physically.
Meanwhile, his love for travel is evident in the way he enjoys experiencing different cultures. Finally, also appreciates a healthy body and lifestyle.
After captivating many modern gentlemen in their home country the brothers behind the brand currently have their eyes fixed on the Middle East. Through e-commerce, the brand has already acquired their position in many regional closets.
Daily News Egypt talked with Lloyd Thomas, one half of the winning duo, to learn more about their aesthetic, demographics and reaching out to the Middle East.
If the two of you, founding brothers, where bags; what styles would you be and what details would you bare? 
Let's start with Kurtis, if Kurtis was a bag he would be the Donald Drawstring beach bag. It is simple, with not much going on; yet, has a purpose for which it fulfils perfectly. I on the other hand would be the Cromwell Leather Duffel bag. Obviously, I am the sophisticated one, more of an all-rounder and I like to spend a lot of time in the gym.
What does the brand's name stand for? 
The brand was born in the back street of Manchester, for those who have not visited this great city it is a British workhorse, full of industrial buildings and a great sense of culture.
Naturally, our home town has shaped much of who we are and many of our designs are inspired by the architecture in which we are surrounded. In particular the industrial vibe has instilled in us a pride of craftsmanship and we strive for the perfect product.
Kurtis Paul exists to answer the luggage requirements of a very specific elite of male and naturally we ensure we achieve this better than anyone else.
How does your relationship as brothers reflect on the brand? 
The relationship of any team has a significant impact on the company, its ethics and how good it is at doing business. In the example of Kurtis and myself this is particularly strong in the way we approach a problem.
Being brothers we naturally have a good understanding of how the other one works; it is this asset that I believe has pushed us to where we are today.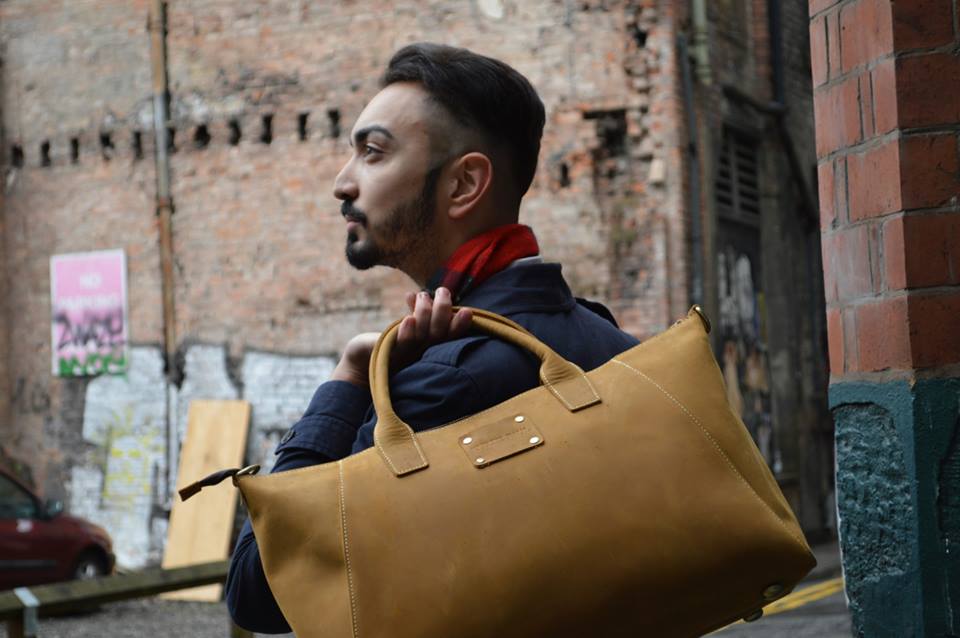 How would you evaluate the Middle-Eastern market? What is your best-selling design in the Middle East? 
The Middle-Eastern market is certainly on the rise, there have been dips in the Mid-East fashion scene; but, in recent years it feels like a new lease of life has been injected.
We now get a lot of interest from these regions, in particular since launching the Arnold Canvas Duffel bag we have seen this become the best seller in the region. I believe it is the simplicity of design that resonates with the wardrobe of places like Saudi Arabia, United Emirates and Qatar.
Bags are often associated to women, why do you choose to target men only? 
I would agree with this generalization; however, there has definitely been a cultural shift over the past 3-5 years. The boundaries between genders is blurring and men are looking for new ways to personalize, accessorize, and stand out.
The product range we design is by no means 'girly', the bags we create are specifically designed in a way that they provide perfect function with materials that are fashionable and durable.
The choice to target men was made because this is the market we could most influence, we could see that male luggage needed to be re-invigorated.
What are your near-future plans? 
The future is an exciting place for Kurtis Paul, in the near term it is our intent to spread the message. Engaging with our loyal followers as much as possible and continue to pour our heart and soul into the products we make.
It is our intent to widen our reach with America, we feel the hipster vibes of L.A and such would really resonate with the brand.