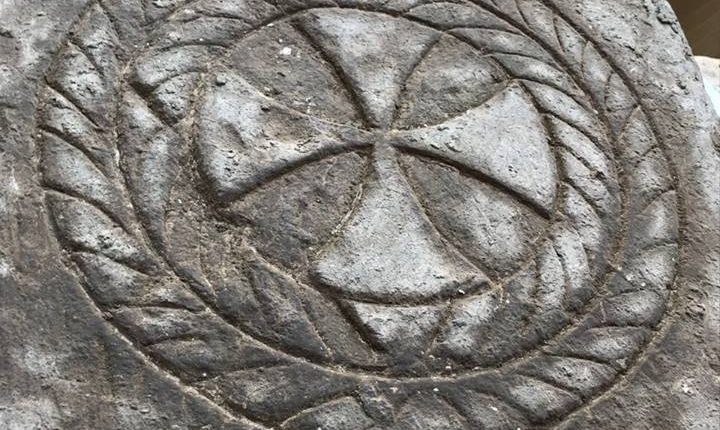 The Ministry of Antiquities announced discovering a Coptic tombstone on Sunday at the eastern side of the Avenue of Sphinxes beneath Al-Mathan bridge in Luxor. The discovery saw the light through an excavation work on the hands of an Egyptian archaeological mission.
The announcement was declared by Dr. Mostafa Waziri, the Secretary-General of the Supreme Council of Antiquities in a press release published at the Ministry of Antiquities' official Facebook page.
Waziri asserted that the discovery is originally a headstone of one of the graves go back to Coptic era. It was found in a good condition, engraved with a cross and some Coptic inscriptions.
Mostafa Elsagher, General Director of Karnak Antiquities and the Avenue of Sphinxes described the measures of the limestone 98×38 cm, adding that its condition goes back to being well preserved stating that "it has been stored in the store for documentation and study to know its owner and it exact dating".
This comes one week after Waziri declared unearthing a wooden head, believed to belong to sixth dynasty queen Ankhnespepy II one the hands of French-Swiss team from Geneva University in the east of her Pyramid in Sakkara necropolis.
He stated that the head is "almost human proportions" while the ears are decorated with a wooden earrings.
Professor Philip Collombert Head of the French-Swiss mission said that "the head was found in a disturbed layer to the east of the queen's pyramid near the area where the pyramidion was uncovered early this week. The mission, he went on, has uncovered a large upper part of a granite obelisk that may belongs to the queen's funerary temple".
Unlike the limestone, the head was found in a bad condition as Collombert stated as "it was not good conserved which will subject it restoration".
"It is a promising area that could reveal more of its secrets soon," Waziri assured adding that the mission is to continue its excavations in an attempt to discover the queen's satellite pyramid and the rest of its funerary complex and collection.