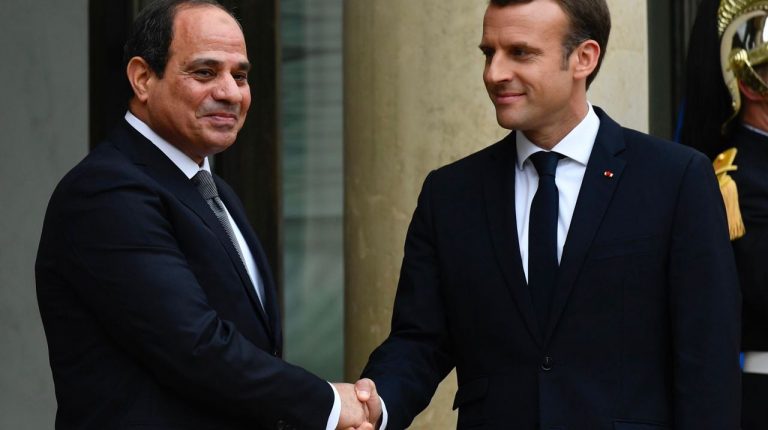 President Abdel Fattah Al-Sisi said in a press conference held in Paris on Tuesday with his French counterpart that more caution should be taken concerning information circulating about Egypt, as there are organisations that are hostile against Egypt's stability, in response to allegations of human rights violations.
During the press conference, which came after the Egyptian-French summit, Al-Sisi asserted that there is an extremist organisation spreading false information about Egypt. He added that "whoever wants to speak about human rights in Egypt should visit and ask the citizens if there is violence or aggression."
He added that Egypt has around 40,000 non-governmental organisations that work on serving the society and peacefully work on helping citizens.
Al-Sisi questioned the credibility of entities criticising human rights in Egypt, demanding them to instead document "the number of martyrs and casualties of terrorism."
Similarly, in response to human rights organisations condemning Egypt of human rights violations, Al-Sisi called friends to come and confirm the validity of those allegations themselves, during his exclusive interview with France 24 on Monday.
The interview came during the president's three-day visit to France for the first official meeting with French President Emmanuel Macron.
Human rights organisations have released a number of reports over the past years, accusing Egypt of allegedly committing human rights and imprisoning political opponents.
Regarding the legal procedures of arresting suspects, Al-Sisi clarified that there are prisoners who are detained pending investigations, but there also others who are serving sentences after fair prosecution procedures and through "jurisdiction" of the Egyptian law.
There are no political prisoners in Egypt, Al-Sisi said, adding that "a person placed under arrest is one who has been arrested on certain charges that will see them put on trial."
Regrading the claims of international NGOs, Al-Sisi urged that there is a systematic campaign against Egypt.
Hours before the president's visit to Paris, Human Rights Watch urged France to not ignore human rights violations in Egypt.
The interview also included discussions over terrorism challenges in Egypt and the crisis with Qatar. He asserted that Egypt is not the only country being threatened by terrorism and that the Middle East and Europe are too. Al-Sisi also asserted that Qatar should respond to the demands of Arab four countries.
During his visit, Al-Sisi also attended a meeting with the board of directors of France's state-owned railway company, SNCF, and the head of DCSN naval group that aimed at boosting military cooperation between two countries and to follow up on existing agreements.
Egypt's navy has become the second largest importer of military vessels produced by DCSN after France's, after the contract on a number of pieces of marine production of the company.
The president also met with French Minister of Defence Florence Parly and agreed on increasing military cooperation between Egypt and France. The two officials discussed latest developments in the Middle East, including regional conflicts, particularly the Libyan crisis.
Following Al-Sisi's presidency, relations with France has improved, as the latter has highly contributed to strengthening Egypt's air force and navy.
In August 2015, former president Francois Hollande visited Egypt and attended the inauguration of the New Suez Canal, a project presented by Al-Sisi as the first national achievement. Two months later, Al-Sisi and Hollande met on the sidelines of the UN Climate Change Conference in Paris. Hollande praised the remarkable growth in cooperation between the two countries and expressed hope for more.