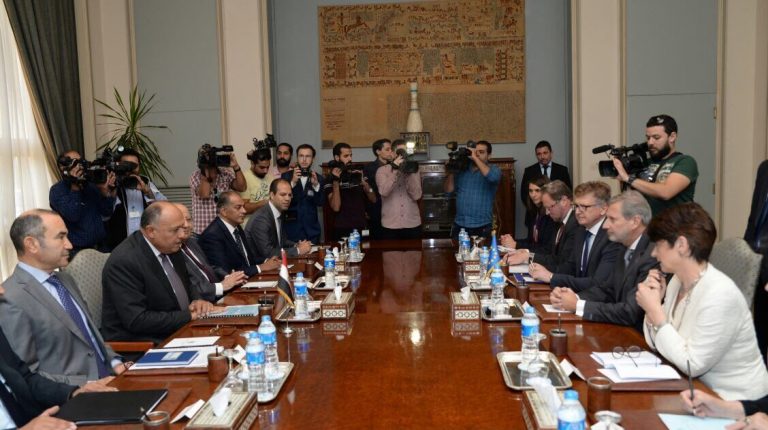 Egyptian Minister of Foreign Affairs Sameh Shoukry met Monday with the European Neighbourhood Policy and Enlargement Negotiations Commissioner Johannes Hahn in Cairo, to discuss boosting relations between Egypt and the EU, according to an official statement by the Ministry of Foreign Affairs Spokesperson Ahmed Abou Zaid.
The visit is the first of its kind for Hahn to Egypt since signing the Egyptian-EU partnership in July.
During the meeting, Shoukry expressed Egypt's keenness in its relations with the EU to face the mutual challenges in the current crises in the Middle East, including terrorism and illegal immigration. He stressed that Egypt is looking to hold the first round of the Egyptian-European dialogue regarding immigration, in November.
Abou Zaid added that the meeting included discussions on boosting the relations between the two sides in accordance with the priorities of cooperation between the two sides for the upcoming three years in frame of the memorandum of understanding regarding supporting Egypt. The memorandum provides funds for several Egyptian projects.
Shoukry reviewed the efforts of the Egyptian government to develop the economy and to provide an attractive environment for investments, in addition to Egypt's keenness on the European Union market as the EU is the biggest commercial partner for Egypt, the statement read.
The issue of the Nile River Basin was also discussed in the meeting. Shoukry reasserted rejecting the European insistence to apply its resolution regarding the technical program for managing the cross-borders waters in the Nile Basin amid the state of division between the countries of the basin and the Egyptian concerns regarding the two principles of agreement and notifying.
Hahn stressed the strategic relations between Egypt and the EU, praising Egypt's role in the region and the importance of stability in the neighbouring countries for the EU, according to the statement.
He added that the EU appreciates challenges and internal and regional circumstances that face Egypt, pointing that the EU is keen on cooperating with Egypt in confronting terrorism and illegal immigration, as well as supporting the Egyptian efforts to achieve economic development and providing job opportunities,  the statement read.
The European official praised Egypt's efforts in achieving the Palestinian conciliation and its reflections on resolving the Palestinian-Israeli conflict and Egypt's efforts in resolving the Libyan crisis and reaching a peaceful solution in Syria.
Abou Zaid added that Shoukry informed the EU official on the developments of the Qatari crisis and the position of the four countries boycotting Doha.
On Saturday also, Shoukry headed to Athens, Greece, to participate in the second round of the ministerial conference for cultural and religious pluralism and peaceful cohesion in the Middle East. The two-day conference aims at discussing the humanitarian crises that the religious and cultural communities face in the Middle East as a result of the disputes in the region during the last years.