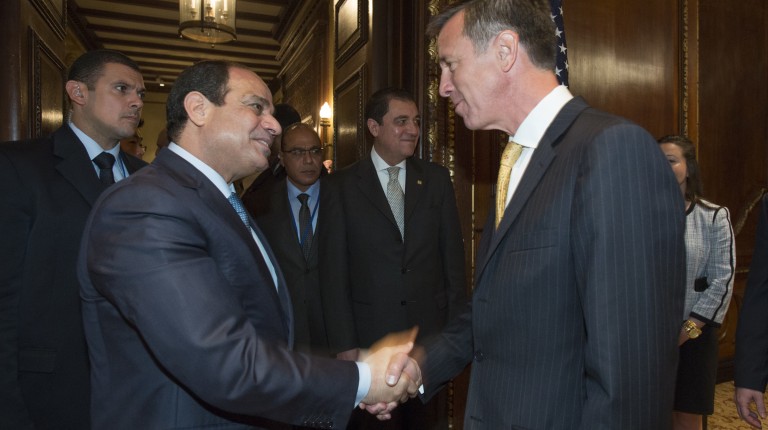 President Abdel Fattah Al-Sisi visited police officer Mohamed Al-Haith in Al-Jalaa military hospital on Wednesday.
Al-Sisi was accompanied by Minister of Interior Magdy Abdel Ghaffar. He praised the efforts of the military and security forces in confronting terrorism and keeping the security and stability of Egypt.
Security officials announced Tuesday the rescue of Al-Haith during a raid against terrorist suspects in western Fayoum, which included a military air strike. The targeted suspects are believed to have been involved in Al-Wahat shootout, which killed 16 policemen according to the Ministry of Interior.
Al-Haith went missing during a security operation to attack a camp of terrorists 135 km south of Cairo in the Wahat desert in Egypt's Western Desert, after the National Security had received information about the camp on 20 October.
The military spokesperson said on Wednesday that it conducted another air strike in coordination with the police, which targeted and eliminated the rest of the perpetrators who escaped Tuesday's operation.
The forces targeted a hideout in western Fayoum, where they also destroyed four vehicles, spokesperson of the armed forces Tamer El-Refaie said in a statement.
Counterterrorism operations in the Western Desert have been taking place and have intensified since the 20 October shootout in Al-Wahat. The ministry said 15 militants were killed.