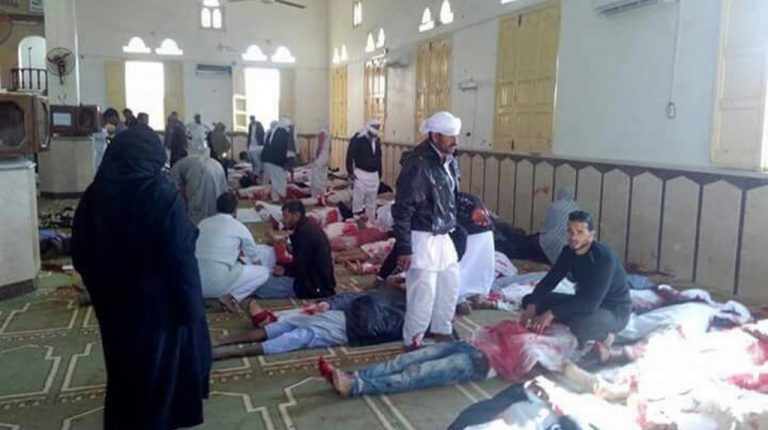 What happened on Friday was the largest attack in terms of casualties and the first targetting a mosque in Egypt as the terrorists targetted the Rawdah mosque in North Sinai's Bir al-Abed. No group has claimed responsibility.
Local newspapers blackened their front pages as the topic took over most writers' op-eds, sharing different viewpoints. They included the media's handling of the attack, the relationship between terrorism and religious and media discourse, accusations against the outlawed Muslim Brotherhood, calls for national unity, and assertions that Egypt will recover and defeat terrorism.
Leading state daily Al-Ahram's front page column by editor-in-chief Abdel Mohsen Salama said terrorism clearly aimed at destroying the Egyptian state, especially in light of consecutive successes, the last of which was President Abdel Fattah Al-Sisi's visit to Cyprus.
Al-Ahram's daily editorial, which is published without a byline, said that the higher the terrorist threat, the more likely the Egyptian people will stick to their leader, particularly as the mosque attack proved that everyone became a target, regardless of military, civilian, or religious status.
The argument of undertaking new, fiercer measures to face terrorist groups was upheld by Al-Ahram's writers Osama Al-Ghazaly Harb and Makram Mohamed Ahmed.
Moreover, state-owned Al-Akhbar's chairman Yasser Rizk wrote a full-page piece titled "We pledge allegiance to you on the sword of vengeance". Rizk re-stated Al-Sisi's words when he said Egypt is "fighting terrorism on behalf of the world", saying this means we are doing it on our own while major powers are protecting the Muslim Brotherhood and feeding the Islamic State group.
Also, a front page column by Khaled Miry, editor-in-chief of Al-Akhbar, titled "It is war", said condolences will not be accepted before retribution, arguing that the attack comes as "cowardly terrorists failed to stand in the face of police and army men."
Tackling lessons that should be learned, media analyst Yasser Abdel Aziz wrote Sunday in the privately-owned Al-Masry Al-Youm that lessons to be learned are: the essence of terrorist groups is their ability to have fighters, equipment, and financial support, which primarily requires security and intelligence efforts. According to him, the religious focus and facing extremism in discourse and the media is secondary.
On the other hand, Wageeh Wahba, an artist and columnist at Al-Masry Al-Youm, wrote that the media played an important role in feeding terrorism and that the ultimate goal of fighting terrorism should be the elimination of extremist ideas spreading through media.
In the same direction, politician Emad Gad argued in his op-ed in the private Al-Watan newspaper that media and religious discourse, in addition to academic curricula, should be aimed at reinstating equality, citizenship rights, non-discrimination, and a secular nation in face of terrorism.
Editor-in-chief of Al-Shorouk newspaper Emad El-Din Hussein opined that it is time that some Sinai tribes "dropped their neutrality" towards terrorist groups, even if they are dissatisfied with government policies in the peninsula.
Politician Amr Al-Shobaky touched upon the same idea in Al-Masry Al-Youm. He wrote that the tribes are divided between cooperating with the state and supporting the Islamic State group, yet the state should not equip tribes with arms to fight terrorists, but rather, find joint political and social solutions to the security situation.
Lastly, writer Khaled Montaser wrote in Al-Watan newspaper that takfiri ideas, which are based on accusing others of apostasy, will remain the problem, because those who accuse others keep breaking into other groups, which eventually could result in having a person accuse his own brother.