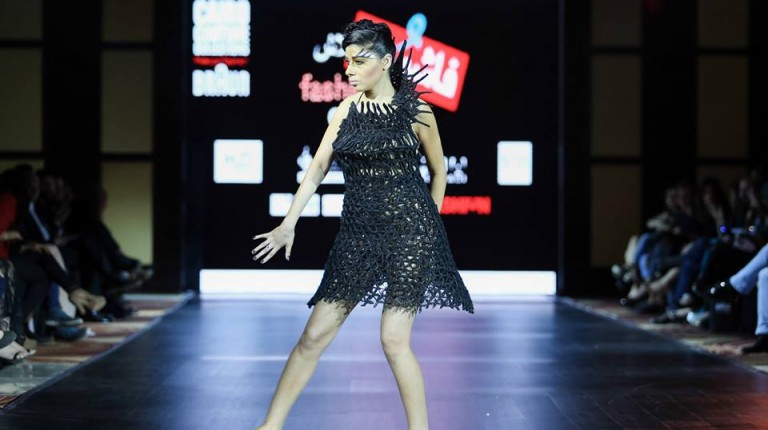 For years, Mennatullah El-Serafy, a PhD holder in genome science, has been working on research about human genes to detect proteins and factors that would help find treatments for immunological and genetic diseases. Her research led her to be chosen as one of the seven most exceptional female scientists in the Middle East by the L'Oréal – UNESCO Women in Science initiative.
Zewail City of Science and Technology, which El-Serafy works for, in cooperation with L'Oréal Egypt, held a ceremony on Saturday honouring El-Serafy for her successful journey in science.
In attendance were well-known scientists, Nana Zewail, nobel prize winner Ahmed Zewail's sister, and Benoit Julia, L'Oréal Egypt's managing director.
The Women in Science programme aims to support research by women in the Middle East, by funding their studies with €10,000. The honouring ceremony aims to promote and encourage the role of women in scientific fields.
El-Serafy works at the centre of genomes at Zewail City. Built through donations, El-Serafy stressed on the importance of raising people's awareness to donate further money to the city which is considered an investment for the whole nation.
Every year, hundreds of women apply to win the program. 50% of this year's applicants were Egyptians. El-Serafy was the only Egyptian post-graduate researcher to be chosen from the applicants.
"This fellowship gives me the chance to publish my research and gain wider exposure, which emphasises the role of women in changing the scientific arena," El-Serafy began her speech by saying, continuing, "I am also proud of this program as it aims at empowering women in science and encourages them to excel in the scientific research field."
In his speech,  Mahmoud Sakr, the president of the Academy for Scientific Research and Technology noted that challenges facing women in the field of scientific research are much higher than men, stating, "recent statistics revealed that women's ratio in university education exceeds 55%, with more than half pursuing Master's degrees and less than 30% completing their PhDs, reflecting the challenges they face."
He also explained that 40% of Egyptian researchers in the scientific research field are females, whereas 60% of them conduct research in social and human sciences. This, in itself, reinforces the fact that women play a vital role in community development. However, there is an urgent need to further empower them.
For her part, El-Serafy told Daily News Egypt that the lack of private sector's investment in scientific studies affects Zewail City severely as "research demands a lot of money and requires lots of funds to keep the sustainability of trainings and workshops, which are essential elements for students to come up with effective results."
From her point of view, investing in scientific research eventually allows them to benefit from the product, "so it is like a circle of investing that gives back to them."
El-Serafy started her research efforts after joining Professor Sherif El Khamisy's laboratory in Zewail City of Science and Technology in 2015. This was right after completing her doctorate in Germany.
She explained in her interview with Daily News Egypt that international foreign companies focus more on the production and selling circle in Egypt, more than research, "even if the same company has another branch in a foreign country, it opens a research department associated with its headquarters as part of the corporate social responsibility, something that, unfortunately, does not exist in Egypt."
El-Serafy has conducted several research projects on yeast bacteria as a sample to detect proteins and factors; a process that allows the production and stability of new genes as an alternative to the affected genes. The research is expected to contribute significantly to the treatment of immunological and genetic diseases.
She also stressed that the research in Zeweil City would not complete without the support of individuals and private sector companies.
In his speech, Sherif Sedky, executive president of Zewail City of Scientific Research and Technology, said that the city's main objective is to keep pace of the international modern science trends through unique, common academic programs; ones that are closely linked to applied research areas and help in facing strategic challenges locally, regionally, and internationally.
According to Sakr, Egypt spends EGP 0.8bn of the state budget on scientific research, a figure that requires support from private sector corporates. He also added that the largest financial support received by his scientific research academy was EGP 400m from a few businesspeople.
When asked about the reasons behind the private sector's lack of investment in scientific research in Egypt, Sedky stated that it is due to "lack of trust they hold for the scientistific community," asserting that, currently, the most important responsibility for the community is to work on quickly regaining this trust.
L'Oréal Egypt is one of the very few private institutions to support research in Egypt. The L'Oreal-UNESCO programme is one of the most accredited programs in supporting women in the Middle East.  Since it saw the light for the first time 19 years ago, it focused on enabling women to participate in the scientific research field. The programme currently includes around 2,820 researchers from 115 countries around the world, with 16 Egyptian researchers and scientists at the international and regional levels.
Benoit Julia, L'Oréal Egypt's managing director, stated, "science and research is in our DNA. The group has invested €800m in 2016 on scientific research and innovation. The program aims to shed light on young female scientists' achievements at the early stages of their rich scientific journey."