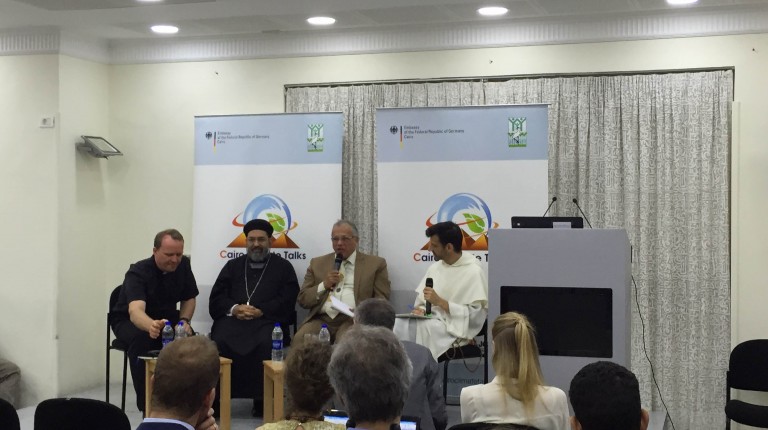 Saturday kicked the week off with the inauguration and launch of developmental projects by the armed forces in the Suez Canal, including tunnels and bridges to facilitate access to Sinai. President Abdel Fattah Al-Sisi attended a ceremony Saturday for the occasion.
In the privately-owned Al-Masry Al-Youm, several pieces reflected on the event.
Newspaper Chairperson Mohamed Amin wrote that Al-Sisi does not make fake promises to his people. On the other hand, he criticised the lack of involvement from state institutions, the private sector, and the public in the decision-making process. "Why can we not have a say in the projects? Why can we not determine our priorities? Perhaps we would like to postpone the construction of cities to start building factories?" Amin wrote.
As for writer Abbas Al-Tarabily, he wrote that Saturday's inaugurations came as "a slap on the face of terrorism," as it came shortly after an attack on Al-Arish Airport in North Sinai and was proof of strong will on behalf of Egyptian leadership.
Meanwhile, the Palestinian case and the US issue at the UN were the main focus of writers in state-owned newspaper Al-Ahram, including arguments of an "Arab slap on America's face," by Chairperson Abdel Mohsen Salama, recommendations that "Trump and Zionists should learn the lesson" that Egypt gave to three armies in the 1956 war by former presidential adviser Sakina Fouad, that Egypt does not retreat when it comes to the Palestinian issue, according to former Al-Ahram chairperson Morsi Attallah, and that Egypt's move against the US reflected its independence, according to TV host Ahmed Moussa.
In the private Al-Shorouk newspaper, writer Ayman Sayad revived the chain of Israeli abuse against Palestinians through the recent famous cases of wheelchair-bound Mohamed Soraya's killing and 16-year-old Ahd Al-Tamimi's arrest. He further criticised "those who tried to convince us that Jerusalem is a minor issue" that was not worth fighting "our friend Donald Trump" for.
On Palestine, Mohamed Seif Al-Dawla, former advisor to Islamist then-president Mohamed Morsi wrote in Al-Shorouk a piece entitled "Two conflicting stories and one truth", in which he said that Arab leaders have always presented the people with rhetoric that the liberation of the entire Palestinian land was unrealistic and that there were no solutions but to settle with the Israelis.
On the other hand, he continued, Israeli leadership has claimed that the land is historically theirs, should be a Jewish state and that the real problem is Arab refusal to recognise that. The only truth, according to the writer, is that Israel is prevailing and that the peace process is an "illusion."
The re-emergence of the Palestinian cause was also highlighted by Al-Shorouk's Ahmed Abd Rabou as one of the major "headlines of 2017 in the Middle East," as he traced other developments and setbacks in the region throughout the year. "Yet the most important headline remains the absence of democracy, violation of human rights, and restriction of civil society, which push the region into more collapses and divisions in 2018," he wrote.
Meanwhile, in the private Al-Watan newspaper, writers addressed sectarianism, coinciding with the Christmas season and an assault on a church in Giza. Journalist Wael Lotfy wrote several observations in relation to the incident, such as media avoidance of tackling the issue and that there should be more open dialogue involving Christian citizens through civil society activity. According to Lotfy, state security bodies should not be accused of compliance or negligence in relation to assaults and terrorist acts.
Politician Emad Gad also wrote about the value of citizenship principles, explaining that humanity developed when it got rid of discrimination and identity-based killings, arguing that third world countries still have discriminatory policies and discourses and still mix politics with religion.
In a different context, media analyst Yasser Abdel Aziz wrote in Al-Masry Al-Youm an op-ed observing that Egyptian audiences have turned to alternative media in pursuit of different voices and the "other side of the story," but criticised the fact that they turned to "Muslim Brotherhood" media based in Turkey. Abdel Aziz argued that the Egyptian state failed to pay enough attention to the "danger" of such a phenomenon and consequently needs to restructure itself in a more professional and attractive way.
This came as Ragai Attia, a lawyer and writer who supports the current regime, continued a series of articles under the title: "There is no sectarianism in Egypt", where he provided examples of well-known Christian names in different fields over time as proof of his claim.