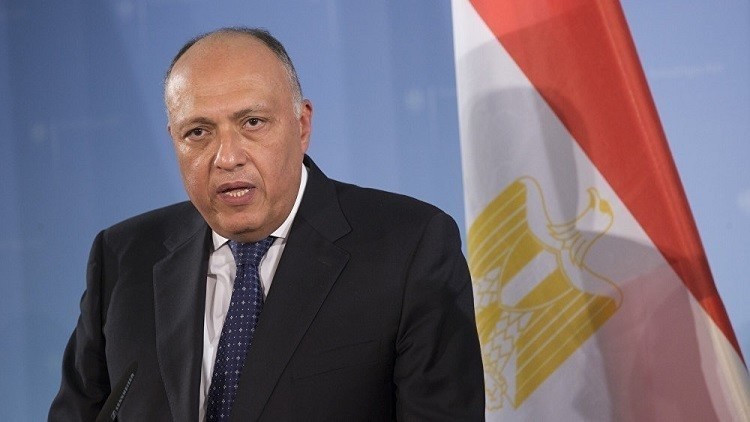 Egypt's Minister of Foreign Affairs Sameh Shoukry heads to Ethiopia on Tuesday to discuss the last round of meetings on the Grand Ethiopian Renaissance Dam (GERD) with his Ethiopian counterpart, Workineh Gebeyehu, according to a statement from the Ministry of Foreign Affairs.
The ministry's spokesperson said that the visit comes as part of Egyptian efforts to overcome the stalemate on the GERD's technical negotiations, in accordance with Egypt's commitment to the tripartite agreement between Egypt, Ethiopia, and Sudan, which was held in Cairo in November, as well as preserving Egypt's water interests.
Spokesperson Abou Zeid added that Shoukry will discuss ways of helping all parties adopt the initial report of the two French consultancy firms—BRL and Artelia—tasked with assessing the possible impact of the dam on downstream countries as soon as possible.
The Egyptian side realises the sensitivity of the current situation as a result of halting technical negotiations and the delaying of preparing the impact studies of the dam, said Abou Zeid. He added that the agreement that was signed between the three parties in March 2015 obliges the three countries to reach an agreement concerning the duration of filling the reservoir of the dam and the way it is operated.
During the trip, Shoukry will coordinate with his Ethiopian counterpart the arrangements of the expected visit of Ethiopian Prime Minister Hailemariam Desalegn to Egypt in January, according to the statement.
In November, Egypt's Minister of Water Resources and Irrigation Mohamed Abdelaty announced the failure of the negotiations, following the 17th meeting of the Tripartite National Committee on the Renaissance Dam (TNCRD) in Cairo to discuss the situation of the dam.
Abdelaty further said that Egypt has tentatively accepted the initial report of the French firm, as it was in accordance with what the three countries had previously agreed to. However, the two other parties of the committee did not express acceptance of the report and called for amendments different to the agreement and re-explaining basic principles of the report.
The minister expressed Egypt's concerns regarding the failure of the technical course "despite Egypt's efforts to ensure completing studies on the dam as soon as possible." Egypt's efforts include calling for a meeting in May 2018.
The GERD, formerly known as the Millennium Dam, is under construction in the Benishangul-Gumuz region of Ethiopia on the Blue Nile River. Egypt has expressed concerns that the construction of the dam could negatively affect its historic Nile water share of 55bn sqm, which it has had access to since a 1959 agreement between Egypt and Sudan.