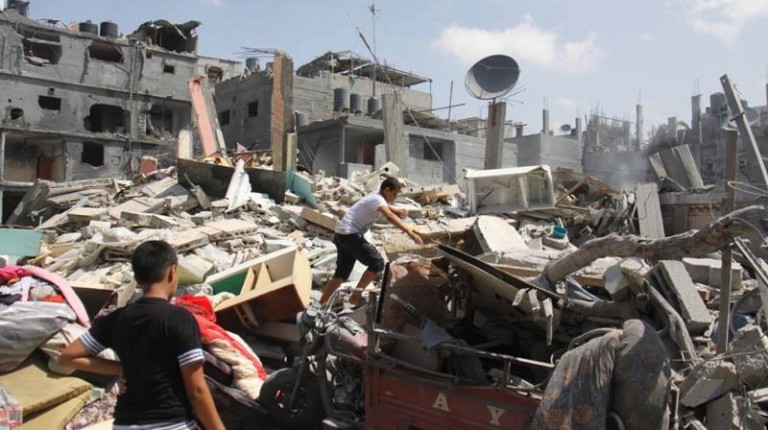 The Helwan church attack was one of the main subjects of commentary in this week's newspapers.
State-run daily Al-Ahram's Samir Al-Shahat wrote about the video footage published by eyewitnesses showing the assailant. He argued that the gunman's defiance by wandering around the street near the church reflected extremist brainwash that such killings will lead him to "heaven", even if they include killing women and children.
Al-Shahat opined that the degree of public awareness and resistance to "terrorism" reached an unprecedented level, as citizens surrounded the gunman and tried to take away his gun—after security forces shot him. Citizens didn't feel differences between Muslims and Christians when they saw the gunman attacking innocent people, he wrote.
Also in Al-Ahram, poet Ahmed Hijazi wrote an op-ed titled: "They are not a minority," where he stated that Egyptian Christians are one of the pillars of society and the history of the country. More importantly, Hijazi compared the Helwan church attack to the assault on a Coptic worship house which took place a few days earlier, arguing that there is no difference between them and both spread hate towards Christians.
Meanwhile, politician Osama Ghazaly Harb argued in Al-Ahram that in order for a serious "anti-terrorism strategy" to be effective, it needs to be planned for the long-term and include cultural and social aspects.
In his piece titled "Greetings from a Muslim to Egyptian Copts", former Muslim Brotherhood member Tharwat Al-Kharabawy wrote in the privately-owned Al-Dostour about the rise and spread of Islamic fatwas forbidding Muslims from greeting Christians during Christmas. Al-Kharabawy denounced such teachings and argued that they were unfounded in religion, but rather, propagated by extremists and Salafists who aim at inciting hatred.
Writers had also been mourning another colleague with the beginning of the new year. Veteran journalist and writer Ibrahim Nafea died on Sunday in Dubai, where he was being hospitalised. A week earlier, the press community bid farewell to renowned journalist Salah Eissa.
Head of the National Press Council Karam Gabr wrote in the private Al-Youm Al-Sabea that death came faster than Nafea's wish to come home to Egypt. In his piece, Gabr said Nafea's son asked for his father's return without having to face prison, as the author defended Nafea by praising career as the leader of the Press Syndicate and Al-Ahram, as well as his battle for laws protecting press freedom.
Similarly, sports journalist Yasser Ayoub wrote in Al-Masry Al-Youm about Nafea's efforts in reviving the role of sports media through Al-Ahram, also mentioning his struggle for the independence of the press and its syndicate in the 1990s, stating that he would defend Nafea's "humanity" despite accusations he faced in court.
Nafea was on trial after the 25 January revolution in a case publicly known as 'Al-Ahram gifts' where he was accused of squandering public funds by offering gifts to the Mubarak family and public officials from the budget of Al-Ahram—of which he was CEO. The case is believed to be the reason Nafea fled to Dubai.
Nafea was widely mourned and remembered in Al-Ahram, as current CEO Abdel Mohsen Salama said he turned the institution into an "empire." Al-Ahram's Editor-in-chief Alaa Thabet also shed light on Nafea's career.
There was more than one op-ed claiming wrongdoing towards Nafea by his own colleagues and students after 2011, such as Al-Youm Al-Sabea's Editor-in-chief Khaled Salah who wrote that some lied when they claimed that Nafea deprived them of their right to be hired despite their competence.
In the same context, Al-Masry Al-Youm's Abbas Al-Tarabily wrote that Nafea was stabbed in the back by the people he had once helped, stating that despite being a "Mubarak era man," he had led a real battle—for the sake of journalists—against the ousted president. The newspaper's columnist who goes by the name "Newton" wrote a letter addressed to Nafea where he apologised for what he had to endure such as exile and disloyalty.
On a different note, Emad El-Din Hussein in Al-Shorouk tackled the presence of Turkey in Egypt's geopolitics as he argued that President Recep Tayyip Erdogan is trying to "surround" Egypt because he would not let go of the defeat of political Islam.
Turkey is playing a role near Egyptian borders in Sudan, Libya, and Gaza, which requires more than media wars by strengthening friendships in the Mediterranean, he said.