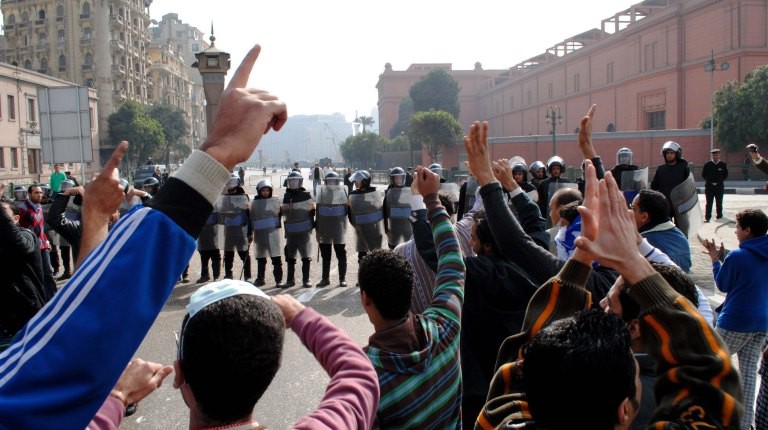 State Information Service (SIS) denounced on Sunday a report published by international media outlet New York Times that claimed the existence of audio recordings of an alleged Egyptian intelligence officer speaking to four public figures and explaining what their stance should be in the media regarding the Jerusalem issue.
A report titled "Tapes Reveal Egyptian Leaders' Tacit Acceptance of Jerusalem Move", written by international correspondent David D.Kirkaptrick, claimed that an Egyptian intelligence officer named Ashraf El-Khouly made secret phone calls to TV hosts Azmy Mgahed, Mofid Fawzy, Saeed Hassaseen, and movie star Yousra to set with them an agenda to persuade the viewers to accept Trump's decision, instead of condemning it.
On 7 December, US President Donald Trump changed his country's decades policy and officially recognised Jerusalem as the capital of Israel. The decision stirred global outrage.
The New York Times report said that the recorded calls mainly referred that Egypt secretly accepts Washington's decision to move its embassy to Jerusalem, which comes in contradiction to what was promoted by Egypt's state media." In the recordings, the officer said that Egypt would condemn the decision before the world, but it's not in its interest to make strife with Israel.
The report did not provide copies of these recordings or even reveal the source of the information, sufficing to refer that these recordings were leaked to the newspaper by an "intermediary supportive of the Palestinian cause and opposed to President Abdel Fattah Al-Sisi", and that the newspaper could not determine the origins of the recording.
SIS responded to the report refuting these are claims and providing evidence to support its argument. Firstly, it said that Fawzi is a journalist who stopped presenting any TV programs since years, contrary to what the report claimed. However, the journalist is still delivering a weekly op-ed to privatively-owned newspaper Al-Masry Al-Youm.
Secondly, SIS said that Hassaseen's show has stopped weeks before the declaration of the decision, and that he is not currently presenting any talk show.
As for Yousra, SIS said that she is an actress that has no relation what- soever to presenting T V talk shows and "is a household name in the movie and acting industry in Egypt and the Arab world as well", which is something that Mr Kirkpatrick should be aware of due to his long stay in Egypt.
"Yousra denied knowing some- one by the name Ashraf El-Khouly, that she discussed the issue of Jeru- salem with anyone, and that she has spoken or expressed views on po- litical subjects to any media outlet, adding that she was not present in Egypt during the period specified in the report," SIS said, adding that the actress would take legal action for being mentioned in alleged leaked
audio recordings, as this targets distorting her image. Also, Mega- hed denied knowing anyone named Ashraf El-Khouly.
Regarding El-Khouly, SIS urged that the report did not provide any information that could prove his af- filiation to Egyptian Intelligence.
SIS concluded that the report contained allegations regarding Egypt's position on the Jerusalem issue, saying that "it is inappropriate to be published in a large newspaper such as The New York Times. Egypt's positions on international issues are not derived from alleged leaks of an unknown person but expressed by the Head of State and the Minister of Foreign Affairs, through statements and official positions. All of these au- thorities announced their positions on Jerusalem."