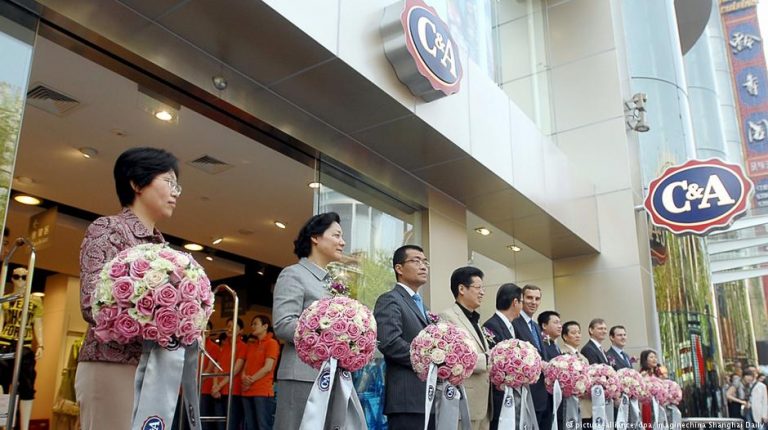 A 177-year-old German tradition could soon come to a close, if fashion retailer C&A is sold to Chinese investors. But could new owners really help the fashion house beat off stiff global competition?C&A's parent company, the Switzerland-based Cofra Holding, on Monday hinted at a possible sale of the German fashion house to Chinese investors.
The company is "exploring ways to accelerate growth in key regions such as China and online," it told DW in a statement.
But the firm refused to confirm an article in Der Spiegel magazine over the weekend that suggested the 177-year-old chain was close to being sold to Chinese investors.
Instead, Cofra said partnerships could result from its discussions, but other forms of external investment in C&A would also be considered.
Time is right?
Despite the firm's reticence to confirm its negotiations with Chinese investors, one respected business analyst told DW that he wasn't surprised at the prospect of a deal.
"It makes perfect sense for C&A," said Gerrit Heinemann, a business professor with the Hochschule Niederrhein. "Because that's the way C&A could put its fashion business back on a healthier footing."
Read more: German retail sales climb most in a year
The Brenninkmeijer family, which has owned C&A for almost two centuries, announced at the end of 2016 it would invest €1 billion ($1.23 billion) in order to restructure its struggling fashion empire, amid increasing competition on the high street in its mature markets, including Europe.
"The family now realizes that this is not enough, and now they seem to be exploring other possibilities," Heinemann added.
C&A has been under pressure for quite some time, from two sides. Firstly, the rise of online shopping has seen competitors such as Zalando thrive, while C&A — and almost all of Germany's traditional fashion retailers — have struggled to break into the digital world.
Stiff competition
Secondly, brands like C&A are also under pressure from low-cost fashion houses like Primark.
"Primark can be described as a shark among fashion companies, and this shark is just about to eat up H&M," warned Heinemann, referring to the Irish budget retail giant Primark, which has grown exponentially over the past decade.
Read more: Primark to slowly expand further in Germany
If the likes of Primark can catch up with H&M, which has spent decades building its reputation for selling fast fashion at low prices, then C&A's future, as a slightly old-fashioned retailer, is perhaps even bleaker.
Although price has traditionally been at the core of its business strategy, compared to the new discounters, C&A is no longer cheap.
Analysts said an expansion into China offer the opportunity for bigger profits as a result of improving the brand's reputation. C&A is considered a high fashion label in China, known as Xi Ya Yi Jia or Western Elegance Fashion.
When it opened a new store at a luxury shopping plaza in Shanghai's Jingan District in 2015, the then head of China operations, Lawrence Daniel Brenninkmeyer, was quoted in the local media as saying "the whole world has its eye on China. Every brand needs to open stores here, but it's a highly competitive market."
Read more: Heidi Klum launches fashion line for German discounter Lidl
According to its Chinese website, C&A currently has 58 stores in China. The Chinese online portal Baidu cites C&A has intending to open several hundred outlets across the country in the medium term.
How will it play out?
A potential deal with Far East investors or partners would obviously give Chinese textile manufacturers direct access to the European market.
But the departure of the Brenninkmeijer family from the landmark fashion empire would be something of a radical move.
Over the past 170 years, C&A has helped the almost 1,000-member extended family to amass a considerable fortune, estimated at €20 billion.
C&A's success has offered a living to some 35,000 employees. Some analysts predict that a Chinese takeover would lead to additional stores being opened. In Europe, the fashion house operates around 15,000 branches in 18 countries.