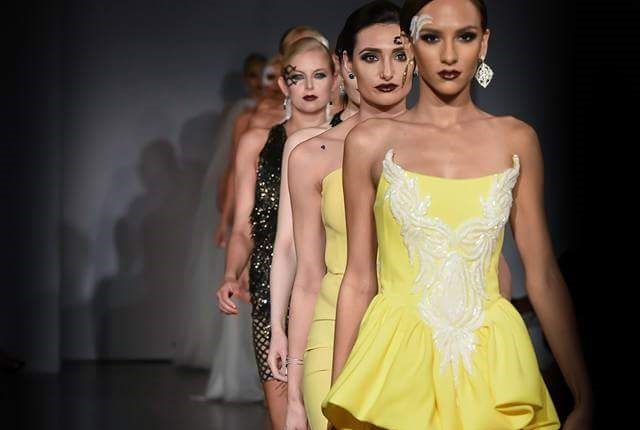 Inspired by the gracious tales of her ancestors, she dives into history and surfaces back with daring silhouettes and intricate embroidery. The fashion historian is on a mission to bring back the victories of the past through a new medium. Her creations are stark glimpses of a glorious past and ambitious future.
Surrounded by her works of art, she has marched confidently toward a large base of clients in Egypt as well as the much-respected runways of the world. As a marketing guru, she was the first to pack her dresses and aim for global participation.
Farida Temraz is a woman with a dream big enough for an entire generation. The renowned designer is well known for her frequent participation in international fashion shows as well as dressing a growing number of global celebrities.
From Carrie Underwood to Mary J. Blige, the resourceful designer has managed to successfully embark on a long mission to put Egypt on the international fashion map, one stitch at a time.
After soldiering through the past year—which inclided promising ups and shocking downs—many rules of the game have changed drastically; however, brands such as Temraza have proven that every obstacle is an opportunity waiting to be reaped.
Daily News Egypt sat with the designer to analyse the past year and talk about what 2018 may hold for the local fashion industry.
How would you evaluate the past year?
2017 was a good and bad year. On a positive side, it brought new clientele. Those who used to travel in order to get the latest international fashion were for the first time encouraged to look for local alternatives. When they took the leap, they were met with the standards they regularly seek which made them contemplate a long-term relationship.
With the devaluation of the pound and the current economic changes, we have also found a new set of clients willing to experiment. During the past year, I have dealt with foreign clients, who travelled all the way to Egypt for affordable alternatives.
This unwanted change has actually created some sort of public diplomacy, which brought different cultures and societies together. It is a newly-discovered soft power; local designers are currently introducing our country on a whole new level.
However, this has also created a bigger challenge. As artistic ambassadors, we need to be up for this task, to properly represent our country through good quality and very high standards.
On the other hand, with the currency devaluation, the possibility of going abroad is becoming more difficult. Personally, I used to take part in international fashion weeks during February and September. However, last year, I preferred to create a marketing campaign for my T-Denim collection rather than travel with it.
I believe in fashion's ability to represent this country abroad. Therefore, I am eager and willing to give back through my brand as well as the university workshops that I currently organise at the American University in Cairo in order to grow a new generation of fashion designers.
I really want regular people to develop their fashion sense. Simultaneously, I am always looking for competitors that I can collaborate and head to international fashion weeks with.
What challenges have been imposed on designers during the past year?
Everything's price was doubled over night, therefore, all designers were suddenly faced with the challenge to accommodate to the new prices without pushing away their loyal clients. Even after the price rises, the majority of us could barely compensate for the increased costs. Nonetheless, I am obliged to continue with the same quality—regardless of any events.
How did Egyptian participation in international fashion events develop during the past year?
The upcoming season of New York Fashion Week, which is expected to take place next February, is set to witness the work of two more Egyptian designers. I have been in contact with the organisers since my participation, and this year, I have been invited to take part once again.
Furthermore, they have already informed me that another local designer has confirmed, while the second should get back to them very soon.
On a personal level, I was humbled to be invited as an ambassador of the Egyptian fashion industry. Yet, I am still not sure about my participation, since I only have three weeks to finish the collection. Last time, I won a prestigious award and I do not plan to come back with anything weaker.
What are our main priorities in regards to international reach?
The international market does not expect us to have a fully-functioning market with qualified designers; nonetheless, they are the first to acknowledge good quality and support young brands. We only need to highlight our skill and our significant aesthetic.
At this stage, we need official fashion weeks to recognise our designers. I have been working on this task for a while now. We need to follow the pull strategy; to select the right events then showcase our best, only for those events to ask for our future participation.
Many designers tend to fall in the fatal mistake of taking part in events that are off the official schedule. It is a lot of money without sufficient exposure and media coverage in return.
In parallel, it is important to develop a strong personality away from mediocre copy and pasting. It is unethical to utilise the patterns and fabrics of other well-known brands.
What would you define as a main target for 2018?
The upcoming year is all about one goal: to maintain and develop. I remember when I studied leading and motivating at Harvard, they taught us how critical it is to maintain a certain level. At the time, I thought it was pragmatic to think about such things before even building a name and succeeding. Now I know the difficulty of keeping momentum.
During my early start, media used to grow frantic, when they spot any of my designs on an international celebrity; I had back-to-back calls for a month, when Carrie Underwood wore one of my designs. However, now they have become used to it. Therefore, you need to develop and change your marketing and business strategy every quarter. The fashion industry is very dynamic, if you are not moving ahead, you will be old news.
With all of this said, education is the key. I can only wish that we collectively bring Egypt back on the map. I am currently the North-African director of the council of international fashion design; a platform for fashion business.
I am fully committed to bring specialized education to new talents. I have already introduced a number of workshops and competitions to the AUC. Meanwhile, we are working on a 10 year plan to introduce an independent fashion major to the university, which would require patience and time.