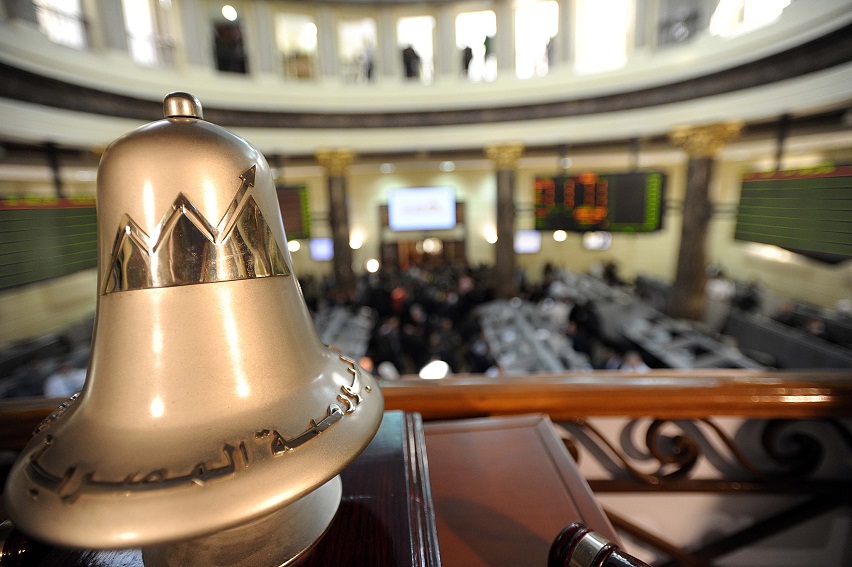 Egypt's stock market is seen as a huge investment opportunity in 2018, with interest rates likely to embark on a downward trajectory, according to investors polled by Daily News Egypt.
The survey conducted by Daily News Egypt included company officials, investors, and market analysts.
Most participants in the survey chose healthcare, consumer, and bank stocks as their top picks for 2018.
Investors are also positive about companies winning contracts on large infrastructure projects and say consumer stocks are recovering from the shock of 2016's currency devaluation.
Egypt's main stock gauge advanced more than any other in the Middle East in 2017 as the government moves forward with structural reforms, which attracted foreign investors to its debt and equity markets.
Positive sentiment towards equities will continue this year as many stocks trade at attractive valuations, while conditions in the Egyptian economy are supportive.
Khaled Darwish, money manager at CI Capital Asset Management, expects pharmaceutical and healthcare stocks to outperform most of Egypt's stocks in 2018, with the government introducing a new healthcare act.
"These stocks have a defensive nature. For example, stocks in this sector didn't suffer as much as others during the 2011 uprising that ousted President Hosni Mubarak," he said.
The EGX30, measured in local currency, fell 49% that year.
Meanwhile, Radwa El-Swaify, head of research at Pharos, has chosen different stocks from many sectors as Pharos' top picks for 2018.
Among the top picks for Pharos in 2018 stocks are from the consumer, bank, and infrastructure sectors.
Cairo's main index increased in value by 21.66% during 2017, as a continuous drop in inflation, positive comments from the Central Bank of Egypt (CBE), and an ongoing programme of economic reforms boosted investor sentiment, especially in the second half of the year.
Samar Soliman, of Egypt-based Okaz Stockbrokers and Investments Consultants, said, "the Egyptian Exchange's performance in 2017 is a clear reflection of the conducted monetary policies that directly affected the performance of traded companies on the market."
She added, "in 2018, we expect companies' earnings from operating profits to affect the stock market the most. In addition to that, economic policies and investment facilities through the new Investment Law should positively reflect on the exchange."
She added that her top picks for 2018 include pharmaceutical stocks, as the government prepares to apply the new healthcare act.
The proposed universal healthcare system will cover 107 million Egyptians by the time it's fully implemented in 2032, Deputy Prime Minister Mohamed Maait said last month.
Meanwhile, Darwish said that infrastructure stocks are among his picks for 2018.
"There are a lot of different megaprojects going on in Egypt at the moment, and the companies that will benefit the most out of it are contractors," Darwish said. Many have won business on projects in other parts of Africa and the Middle East, he said.
Elsewedy Electric is considered a proxy for infrastructure in the country.
The cable manufacturer is poised for gains that could be even higher than its 99% jump in 2017. Stock trades at a cheap valuation and has a clear dividend policy.
Giving his outlook for the consumer sector, Darwish said, "this sector took a strong hit after the currency was allowed to float. Now, it's trying to catch up with inflation, and the volume of sales is rising. We saw a lot of companies recovering in the past two quarters, and stocks are re-rating," he said.
Meanwhile most investors surveyed by Daily News Egypt gave a bearish outlook for real estate and bank stocks in 2018.
After the currency flotation, real estate prices rose too far and too rapidly, while income and salaries failed to keep pace.
A recent survey by EFG Hermes showed that the Egyptian Exchange (EGX) is leading investment opportunities in 2018.
Around 250 CEOs were surveyed by Hermes during the Egyptian Economy conference, of which 51.28% were in favour of the stock market, while 23.08% voted for deposit certificates and treasury instruments.
"The purchases of foreign investors in the Egyptian Exchange (EGX) registered EGP 73bn, with the net buying level standing at EGP 7.4bn," EGX Chairperson Mohamed Farid said last month.
Farid attributed the foreign investment to the road shows that the EGX conducted in 2017 in the stock markets of New York and London.
"We have also visited international financial institutions and investment funds that manage around $4tn in assets, where we showcased the latest developments of the Egyptian market," Farid explained.
Briefing the press about the performance of the EGX in 2017, Farid said that around 46 listed companies have increased their capital with EGP 9.7bn this year, which is 86% more than capital increase operations last year.
Around EGP 4.2bn of the recent capital increases took place in the last four months, and "these hikes reflect an improvement in the economic situation in Egypt," he added.
On initial public offerings (IPOs), Farid highlighted that six IPOs took place in 2017 with a total value of EGP 4bn, 65% more than last year, adding that these launches were 31 times oversubscribed.