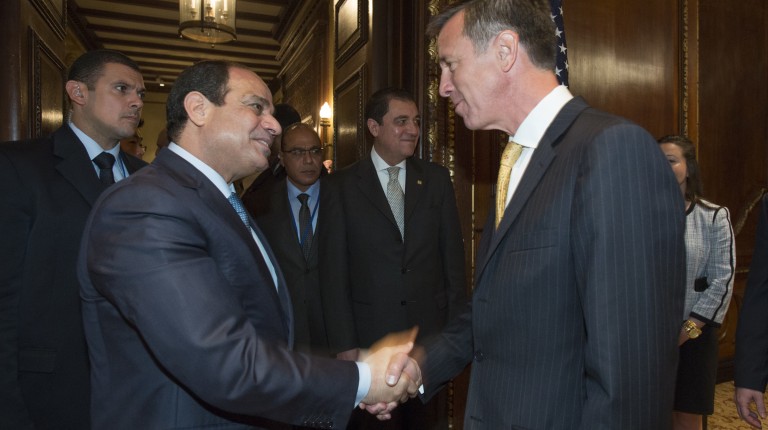 Berlin- A massive promotional campaign will be held by the Egyptian Commercial Service Office in Germany and the German Embassy in Cairo to encourage German investments in Egypt, said Egypt's Ambassador to Germany Badr Abdel Ati, during a meeting prior to the Fruit Logistica exhibition held in Berlin from 7-9 February. It came after the German government had announced acting as a guarantor of small- and medium-sized enterprise (SME) investments in Egypt.
Abdel Ati added that the German government has adopted a series of guarantees against market risks, instability conditions, and political unrest to enable SMEs to invest in Egypt.
The German decision came in response to a request from the Egyptian government, which aims to attract German SMEs to invest in Egypt, according to Abdel Ati. German SMEs account for about 70% of economic activity in the country, he added.
The new Investment Law and its executive regulations sent an important message to German companies as it offered new guarantees and incentives to encourage investment and assure foreign businesspersons of their work security in Egypt, said Abdel Ati.
Germany was interested in investing in the Egyptian energy sector, especially oil and natural gas. Germany's Siemens has signed the largest contract in its history with the Egyptian government for the establishment the world's three largest gas-fired combined cycle power plants in Beni Suef, Brulus, and the New Administrative Capital.
These plants, each with a capacity of 4.8 GW, will represent about 45% of total electricity generated in Egypt.
Abdel Ati revealed that a series of mutual visits will be held after the new German coalition government's formation, starting a new phase of official and commercial visits between the two countries.
According to the ambassador, the trade exchange between the two countries amounted to €5.5bn in 2017, an increase of 26% compared to 2016. He added that the Egyptian-German trade exchange is expected to reach €6bn by the end of this year, especially as Egyptian products, such as textiles, carpets and furnishings, and vegetables and fruit began to spread widely in the German market.
Moreover, a considerable growth in German tourism to Egypt was witnessed in 2017, leading the list of countries sending tourists to Egypt, bringing to mind the huge German tourist arrivals in 2010, the peak tourism year in Egypt.
Abdel Ati pointed out that the two countries are interested in boosting cooperation in the education sector, especially basic, technical, and university education, revealing a plan to revive the Mubarak Kohl Initiative-Dual System, but under a new title; the Egyptian-German education project.
On the other hand, the Egyptian-German security agreement came into effect after the Egyptian and German parliaments' approval, covering all security issues such as terrorism and illegal immigration, said Abdel Ati. He added that the German side always listens to the Egyptian viewpoint regarding different issues in the international and regional arena, stressing that Germany applauds the vital role played by Egypt in combating terrorism. Abdel Ati concluded that the political relations between the two countries have witnessed greater development recently, noting that six high-level meetings have been recently held between the two countries, in addition to a number of mutual visits to discuss issues of common interest in the Middle East.