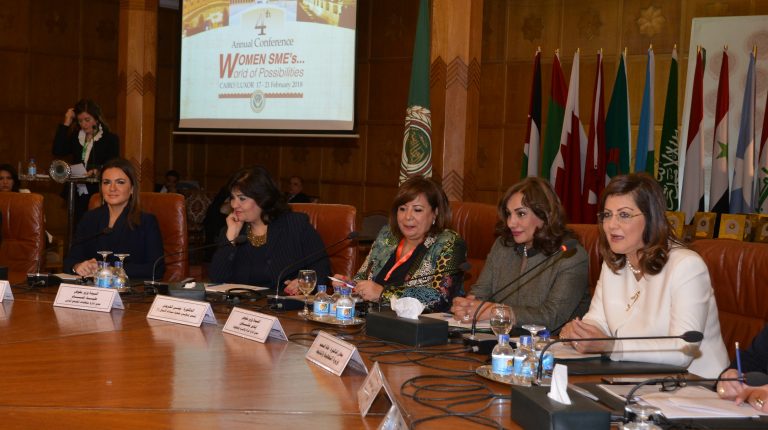 Egypt is full of success stories led by women who overcame struggles, managed to earn financial incomes; they are considered role models, says Arab League member
With the aim of supporting women to have steady feet in economic markets and help them establish their own startups in the fields they are passionate about, the 4th Business Women of Egypt 21 (BWE 21) kicked off on Saturday, lasting for five days between Cairo and Luxor. Under the title Women, Partners in Success, the conference helps to link women with small and medium enterprise (SME) owners in order to establish a platform for exchanging experiences between them.
The conference opening was attended by several ministers, including Minister of Environment Khaled Fahmy, Minister of Investment and International Cooperation Sahar Nasr,  and Minister of Planning Hala Al-Saeed.
"Through this conference, we aim to gather business women from across the world to exchange their experiences, skills, stories of their SMEs' success, and create a platform for women to engage through," said Youmna EL-Sheridy, BWE 21 CEO. "This will allow women to achieve the maximum possible benefits."
One of the projects the conference adopts is the Waste2Wear initiative, which targets creating and establishing job opportunities for many women through reusing plastic bottles and turning them into fabrics and threads to be used in clothes and designs for women.
Through several workshops and discussions, the conference mainly discusses the challenges facing SMEs run by women, deliberating the She Trades initiative that was launched by the World Bank aiming to enrol several women in the international exporting market, as well as discussing how to employ a larger number of women in decision-making job opportunities.
On another note, Inas Mekkawy, head of the women, family, and childhood department of the Arab League, spoke of the strategy adopted by the Arab League for women that includes developing the status of women's educational and financial conditions that started in 2015 and lasts until 2030.
"Egyptian women managed to succeed despite their surrounding circumstances," Mekkawy asserted, adding, "Egypt is full of success stories led by women who overcame struggles and managed to earn financial incomes, and they are considered role models we must look up to."
Speaking of another side of the Arab League's support for women, Alia Ghannam, head of the civil society organisations department, added that the Arab League works on enhancing the role NGOs play in supporting and developing women in the Middle East.
Ghannam also explained that the Arab League is working on various plans to train Arab women in order for them to be qualified to meet working demands which leads to developing women-run social sectors.
The conference is supported by Prime Minister Sherif Ismail, Minister of Culture Inas Abdel Dayem, the National Council for Women, and International Labour Organisation and witnessed attendance by over 200 business women from across the world.